How to make a walking taco, the only taco recipe you need at your Super Bowl party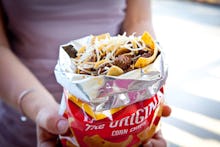 The worst part of hosting any event is the clean-up. So why bother? Nachos, tacos, wings and all your favorite football snacks leave a big mess, so why not transition to an all-in-one, delicious solution to your messy post-party woes? 
The walking taco, which can also make itself at home in your lap, is perhaps the greatest game food and bar snack of all time, assembled completely in a personal bag of chips, i.e your transportable taco shell. 
While you don't really need a recipe to create a walking taco — just toss some shredded cheese, guac and chili into a bag of Fritos — use these walking taco recipes as your guide to create the only taco you really need on Super Bowl Sunday. 
Hawaiian BBQ pork walking taco
Load up that bag of chips with a lot of meat and a few greens for one of the best walking tacos you'll ever have. Get the recipe here. 
Frito pie
Made with an abundance of spices (cocoa!), this chili-based Frito pie is sophisticated enough for your snobby friends who may be adverse to eating a meal out of a chip bag. Convince them. Get the recipe here. 
Frito pie with one-hour Texas chili
Ridiculously quick to make and even quicker to eat, this carb-y, meaty walking taco is a delicacy in the best way possible. Get the recipe here. 
Walking turkey tacos
Keep it simple, and slightly healthier, with lean ground turkey in your Frito bag mix. Get the recipe here. 
Cheesy enchilada walking tacos
Snack size bags of nacho cheese Doritos and old reliable Hamburger Helper pair up to make seriously tasty tacos in a bag. Get the recipe here. 
Healthier walking tacos
If you don't want to eat an entire bag of chips per taco, you can make your walking tacos in a cup. And with healthier, sweet potato chips. Get the recipe here. 
Walking banh mi
Okay, so this is a riff on a Vietnamese sandwich, not a taco, but it's still a great walking meal made with chips! Get the recipe here.