Grammy Predictions 2017: Will 'Lemonade' finally win Beyoncé album of the year?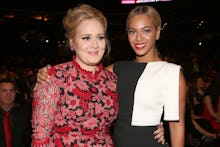 Despite what their status as the most watched music awards show may suggest, the Grammys have rarely been a paragon of musical taste. Admittedly, a year is not always enough time to understand a work's true contribution to music history — and the Grammys continually get it wrong, especially when it comes to album of the year.
With few exceptions, the morning after every ceremony, the cry "Snub!" will echo throughout the internet, and most of the time it's warranted. It was the take du jour in 2015, when Beck beat out Beyoncé; in 2016, when Taylor Swift beat out her hip-hop beau Kendrick Lamar; and it will likely happen again in 2017.
Some heavy-hitters with die-hard fanbases have been nominated this year, and they will most likely be hoping to hear their name when the winner is read on Feb. 12. Two of the Grammys biggest winners, Beyoncé and Adele, are the popular frontrunners, taking on some unexpected entries, including Drake's uneven Views and Sturgill Simpson's alt-country A Sailor's Guide to Earth.
Here are the chances each has to win:
Adele, 25
Chance of winning: Absurdly high.
Pity any artist sharing a category with Adele this year. Out of all the Grammys' year-in, year-out darlings, Adele deserves special mention. Last time she had an album up for consideration at the Grammys in 2012, the British songstress tied Beyoncé for the record of most Grammys earned in a single night by a female artist, winning album of the year as well — a trophy Beyoncé has still yet to earn. Considering the quality of 25's singles, the sales records it shattered and Adele's ability to appeal to multiple generations of voters, it's highly likely she'll repeat that domination in February.
Beyoncé, Lemonade
Chance of winning: High, but it will likely suffer from some vote splits.
What does Beyoncé have to do to get a goddamn album of the year Grammy? Her album Lemonade is one of the most immersive and layered albums that pop culture has experienced in years. It distilled generations of black history and rich, confessional biography into sharp verses and sharper beats. But it still might not be enough. Due to its relatively low sales and sparse radio representation, it may not sweep the show like many listeners immediately assumed it would. At the very least, a loss will make for some interesting snub takes the morning after, and open the door for an even more epic #JusticeForBeyoncé moment somewhere down the line.
Justin Bieber, Purpose
Chance of winning: Decent, but it'll take more than that to beat the odds.
Prior to 2015, unwritten rules held that fans with sophisticated music tastes were never supposed to fall in love with Justin Bieber's albums. But Purpose changed everything. The album laid Bieber's breathy, sentimental vocals over some absolutely infectious lightly tropical, lightly syncopated beatwork to deliver some groundbreaking hits. It doesn't offer as coherent of an artistic vision as Beyoncé's Lemonade or tug on the heartstrings to the same degree as Adele's biggest singles. But, it can still come up with a win if Drake and Beyoncé create such a dramatic vote split that Bieber diehards who see YouTube as the future of music can push their boy to the top. Good luck to them.
Drake, Views
Chance of winning: Nope.
Drake's Views was simultaneously one of the most impressive and most disappointing hip-hop releases of 2016. Impressive, because it launched Drake to the commercial stratosphere, helping him break a plethora of chart and streaming records. Disappointing, because it was about as safe as an album could be. The more distance we get it, the more it seems like a product of shrewd business decisions, rather than an artistic statement that deserves to be immortalized in the Grammys' hallowed halls. Even Bieber took bigger risks on Purpose. Pass.
Sturgill Simpson, A Sailor's Guide to Earth
Chance of winning: Never rule out a white man with a guitar.
When trying to anticipate the Grammys voting habits, there's a hard and fast rule one must always keep in mind: Never rule out a white man with a guitar. Until the older swath of Grammy elites die off, he will always have a shot. Think back to 2015, when Beck swept the rug out from under Beyoncé; think back to 2013, when Mumford & Sons took the top spot over Frank Ocean's Channel Orange; think back to 2009, when Robert Plant & Alison Krauss topped Tha Carter III and In Rainbows. See the pattern? Sturgill Simpson's lightly psychedelic country makes for a solid listen.