'Pokémon Sun and Moon' Update 1.1: Full patch notes for the latest version of the game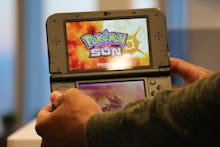 Pokémon Sun and Moon just received an update, version 1.1, on 3DS. Don't expect anything groundbreaking, though. It's just a couple of bug fixes and minor changes. In total, it'll take up "296 blocks" (roughly 37MB of storage space) to download, according to Serebii. Here are the full patch notes.
Pokémon Sun and Moon update 1.1 patch notes
Here's what the patch addresses, according to PowerUpGaming:
— Fixes glitch that caused battles to not continue when Z-Memento and Z-Parting Shot were used on battle spot
— Fixed a glitch that determined the wrong winner if the Rocky Helmet caused both players to lose their final Pokémon
— Fixed a glitch where Pokémon wouldn't learn moves after they evolved such as with Kadabra and Confusion
— Various bug fixes
More Pokémon Sun and Moon news, updates, tips and tricks
If you're serious about Pokémon Sun and Moon, you'll want to read up so you can be the best. Check out our guides for picking the right starter, Pokémon Sun and Moon cheats, using a damage calculator, how to catch the new legendary Pokémon, how to get Munchlax and picking between Pokémon Sun and Pokémon Moon.