The 'Legion' premiere synopsis is out and it sounds very different from 'X-Men'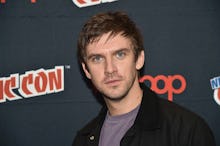 A synopsis for the premiere episode of Legion, the FX X-Men spin-off series created by Noah Hawley, has been released.
The new series, which debuts Wednesday, Feb. 8 at 10 p.m. Eastern, introduces the audience to David Haller, a young man who has been diagnosed as schizophrenic after struggling with mental illness for more than half his life. The pilot episode, titled "Chapter One," was written and directed by Hawley, and teases that, after years of being in and out of psychiatric hospitals, David is introduced to the possibility that the visions and voices he sees and hears might actually be real. His revelation is partly instigated by an encounter with Syd, a fellow patient. 
David is played by Downton Abbey alum Dan Stevens, alongside Mackenzie Gray, Scott Lawrence, Katie Aselton, Tatyana Forrest, Jeremie Harris, Bill Irwin, Rachel Keller, Amber Midthunder, Aubrey Plaza, Luke Roessler, Jean Smart and Edie Hennessey. 
While Legion is a collaboration between Marvel and FX, the show appears to be more of a psychological thriller than the action-packed adventures Marvel films are known for. 
Hawley is no stranger to adapting films to television, having created the award-winning TV series Fargo, inspired by the film of the same name. He has stated that Legion will retain the comic's backstory of David, who is the son of Charles Xavier, X-Men founder, and Holocaust survivor Gabrielle Haller. 
An omega level mutant, David possesses telepathic and telekinetic abilities. Other characters with special powers include Syd, who trades places with people she touches, and Ptonomy, a memory artist. 
Furthering the psychological aspects of Legion, Hawley said of the show's setting, "This whole show is not the world, it's David's experience of the world. He's piecing his world together from nostalgia and memory and the world becomes that."