Joe Jonas, with a heavy assist from some body oil, strips down for new Guess campaign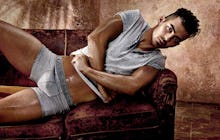 Joe Jonas is here to prove that brother Nick Jonas isn't the only Jonas with a penchant for thirst trappery.
The DNCE frontman appears alongside model Charlotte McKinney in the first images released from their new joint Guess campaign for the brands Spring 2017 underwear line.
"It's been a fun shoot," Jonas told E! News, "and my first time doing [an ad] in underwear, so it's pretty exciting." Jonas went so far as to call the shoot a "life-changing experience."
Also appearing in the campaign: ample supplies of body oil.
Reactions on Twitter have thus far been highly favorable. "All other men have officially been ruined for me," one user remarked. "He can't be real," suggested another. "I can't breathe, somebody send help," was also a common sentiment.
Check out even more images from the campaign below: