5 key moments from Donald Trump's press conference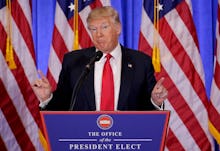 Donald Trump gave his first and only press conference as president-elect on Wednesday, an event that delivered a bevy of memorable moments. Coming in the wake of the explosive unsubstantiated allegations of his connections to the Russian government, the press conference centered around Trump's business record and his thoughts on the media. 
Here are five of the biggest moments:
Trump won't be divesting from his company.
Though Trump said he would hand over control of his business empire to his sons Donald Jr. and Eric, he won't be selling off his stake. This means that decisions about commerce he makes in office could benefit him financially, creating potentially massive political problems.
The company won't be making foreign deals.
One conflict of interest Trump says won't occur, though, is any involvement of his company with foreign entities. Trump's lawyer said that during his time in the White House, the Trump Organization will only pursue domestic deals, completely avoiding foreign development.
He admitted Russia played a role in hacks
For the first time, Trump conceded that the Russians were behind the campaign hacks — though he walked that back a bit when he said that he thinks other countries are also hacking the U.S.
Trump went after CNN hard.
Trump shouted at CNN reporter Jim Acosta during the conference, telling him that "You are fake news!" It was an impassioned reaction to CNN's publishing of a report that suggested Trump had knowledge of the Russian hacks, among other unsavory allegations.
He ended with his 'Apprentice' catchphrase.
After his time in office, Trump said, he'd look at the job his sons had done running the company. And then he went back to his reality TV roots, saying that if they'd done poorly he would tell them, yes, "You're fired."