This bumblebee is the first bee species in the continental US listed as "endangered"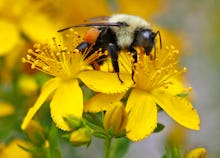 The bees are in trouble. The adorably named rusty patched bumblebee just became the first bee species in the contiguous United States to be officially categorized as "endangered" by the U.S. Fish and Wildlife Service, CNN reported on Wednesday.
This rusty patched bumblebee lives in thirteen U.S. states — Illinois, Indiana, Iowa, Maine, Maryland, Massachusetts, Minnesota, North Carolina, Ohio, Pennsylvania, Tennessee, Virginia and Wisconsin — as well as in Ontario, Canada. Since the late 1990s, its population has shrunk by 87%, CNN reported.
"The rusty patched bumblebee is among a group of pollinators, including the monarch butterfly, experiencing serious declines across the country," Tom Melius, the Wildlife Service's midwest regional director, told CNN.
"Pollinators are small but mighty parts of the natural mechanism that sustains us and our world," Melius continued. "Without them ... our crops require laborious, costly pollination by hand."
The rusty patched bumblebee isn't the only bee species that faces threats from from factors like climate change and pesticides. According to Greenpeace, recent winters saw bee population declines of "up to 53%" in Europe.
"The world's most widely used insecticides harm the ability of bees to vibrate flowers and shake out the pollen to fertilize crops, according to preliminary results from a new study," the Guardian reported in December.
Melius told CNN the U.S. Fish and Wildlife Service hopes that listing the rusty patched bumblebee as endangered will amp up efforts to slow its decline.