'50 Shades Darker' Soundtrack: Here's the track list from the '50 Shades of Grey' sequel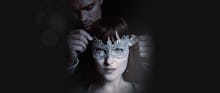 There is a long list of big artists lending sexy vocals to the new Fifty Shades Darker soundtrack.
Fans of the Fifty Shades of Grey sequel can look forward to collaborations with ZAYN and Taylor Swift on the already bubbling "I Don't Wanna Live Forever" as well as Nick Jonas and Nicki Minaj. John Legend, Halsey, Sia and The Dream are some of the other artists featured on the 19-track compilation. The Fifty Shades Darker soundtrack is available Feb. 10, just before Valentine's Day. 
Below is the full track list:
1. I Don't Wanna Live Forever – ZAYN ' Taylor Swift
If you want a preview of what's to come on the soundtrack, ZAYN and Taylor Swift's "I Don't Wanna Live Forever" is already climbing the Billboard Hot 100 chart, claiming this week's no. 14 position. ZAYN was recently spotted in London shooting the music video for the sultry record, which he revealed came about after his supermodel girlfriend, Gigi Hadid, connected him with Swift.  
"I spoke to her on the phone and she heard the song because (producer) Jack [Antonoff] had played it to her. So she really liked it and she went in the studio the next day," he told Elvis Duran and The Morning Show about working with Swift.
The film Fifty Shades Darker, based on the second book in the Fifty Shades trilogy by British novelist E. L. James, hits theaters Feb. 10.