Weekend Box Office prediction for Jan. 13 to 16: Will 'Hidden Figures' top the newcomers?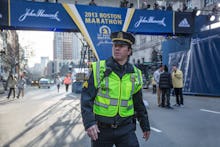 Hidden Figures stormed out of the gate with $22.8 million last weekend, inching by Rogue One: A Star Wars Story for the number one spot. This ended Rogue One's three-weekend run of topping the box office. Hidden Figures' strong wide opening also sent Illumination's Sing to the third spot, though it did hold well with over $20 million.
This weekend sees the wide release (or expansion) of several films, including The Bye Bye Man, Monster Trucks, Sleepless, Live by Night, Patriots Day and Silence. With such a crowded field, many of these new releases will fail to draw big crowds. The biggest question for the weekend will be who wins out between Patriots Day and Hidden Figures. 
This weekend's predictions will include Monday's Martin Luther King Day, rather than the usual weekend length.
(Editor's Note: The following are purely predictions on how movies may perform at the box office this weekend. The predictions are not based on any conversations with industry analysts or studio executives. The numbers should not be taken as fact.) 
1. Hidden Figures
While the number one spot will be awfully close between Hidden Figures and Patriots Day, I expect the former to hold its place in orbit for the second straight weekend. Hidden Figures, an awards contender, has been playing strong this week, and should continue to do big numbers over the long weekend. 
Hidden Figures is often compared to 2011's The Help, which nabbed $26 million in its first weekend before dropping to $20 million in its second. Should Hidden Figures drop a similar 23% over the weekend, that puts its gross at around $17 to $18 million. Add in Monday's holiday, and Hidden Figures should gross over $20 million with ease. 
Four-day Prediction: $22.5 million
2. Patriots Day
Patriots Day has been doing very strong business in its limited release. The Boston bombing-themed film opened over the long Christmas weekend, and grossed over $30,000 per theater. Since then, in just seven theaters, the film has earned just under $900,000 domestically. 
This weekend, Patriots Day expands to 2,900 theaters, and should do similar business as Hidden Figures. The film is just the latest to be directed by Peter Berg and star Mark Wahlberg, following past collaborations, Deep Water Horizon and Lone Survivor, the latter of which expanded the same weekend two years ago to over $37 million. 
I would be shocked if Patriots Day did that type of business, but with a 78% rating on Rotten Tomatoes and a patriotic message, it should gross over $20 million.
Four-day Prediction: $21 million 
3. Rogue One: A Star Wars Story
After letting go of its number one spot to Hidden Figures, Rogue One may slip one more to number three over the long weekend, though it will be close. This week so far, Rogue One has been nipping at the heels of Hidden Figures, still doing strong business. 
After dropping 55% last weekend, Rogue One will likely only ease about 30% for the weekend (not including the holiday), which is around what Star Wars: The Force Awakens dropped the same time last year. If Rogue One comes in around $15 million for the regular weekend, it should make around $18 to $20 million over the long weekend. With such a crowded field, though, I expect it to come in on the lower end of that range. 
Four-day Prediction: $18.5 million 
4. Sing
Though Sing has not yet grossed more than Rogue One in a weekend, it has a chance of doing so with schools off for Martin Luther King Day. For now, I will put Sing just below Rogue One, but should kids come out in droves on Monday, it could jump ahead over the long weekend.
Sing has been performing very well domestically, and has already grossed nearly $220 million. None of the new releases, outside maybe Monster Trucks (more on that in a bit), play toward families, so Sing should still do good business with parents and children. 
It will almost certainly come in behind Rogue One over the regular weekend, but do not be shocked if a large showing on Monday moves Sing to the number three spot. 
Four-day Prediction: $17 million 
5. La La Land
The fifth spot this weekend will likely be contested by critics' favorite La La Land and monster write-off Monster Trucks. It could be close, but it is likely safe to say that coming off a record seven Golden Globe wins, including best motion picture — musical or comedy, La La Land should nab this spot. 
This week, La La Land has been performing very well, coming in just behind Hidden Figures and Rogue One in the dailies. The crowded field, though, will likely see La La Land not make it to the heights of those films over the weekend. Still, coming off its big awards night, La La Land should not drop from last weekend's $10 million. In fact, it will likely gross a few million dollars more than its last frame, like Chicago did in 2003 over the long weekend. 
Four-day Prediction: $12.5 million 
6. Monster Trucks
Monster Trucks is set to be a monster disappointment for Paramount. The film cost a reported $125 million, and Paramount took a massive $115 million write-down on the picture nearly four months ago. Suffice to say, Monster Trucks is not going to be a successful film. Still, it should grab the number six spot over the long weekend, so that's something.
Monster Trucks currently holds an abysmal 25% on Rotten Tomatoes, with a want-to-see rating of 71%. You rarely see a movie get such low excitement scores. Monster Trucks may earn a bit more money on Monday, should parents find Sing sold out at the local theater, but expect this film to drop quickly from screens. 
Four-day Prediction: $11 million
What about the rest of the top 10?
The next four spots will likely be occupied by some variation of Live by Night, Underworld, Sleepless and The Bye Bye Man. All of these films could gross between $6 to $10 million over the long weekend. Due to Ben Affleck's current popularity as an actor and director, I expect Live by Night to come in on the high end, even though it is not receiving great buzz. 
The Jamie Foxx-starring Sleepless will likely do the worst business of the bunch. The marketing appears slim for the film, and it looks more like a poor man's Taken, and may have been better suited for a VOD release. 
As the only horror in town, STX's The Bye Bye Man could surprise and even jump ahead of Monster Trucks. Finally, despite Martin Scorsese's Silence garnering very strong reviews, it will only be expanding to 750 theaters this weekend, so it likely will not make a play for a top 10 spot.