94% of hate crimes against South Asians motivated by anti-Muslim sentiment, report says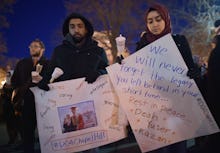 The South Asian Americans Leading Together published a report on Wednesday documenting hate violence against South Asian, Arab, Middle Eastern, Sikh, Hindu and Muslim communities from November 2015 to November 2016. 
SAALT reported 207 instances of hate violence and xenophobic political rhetoric — an alarming 34% increase within less than one-third of the time covered in their 2011-2014 report Under Suspicion, Under Attack.
The new report found:
• 140 incidents of hate violence of which 94% were influenced by anti-Muslim sentiment.
• 67 instances of xenophobic political rhetoric used by key political figures and presidential candidates; 1 in 5 of these documented comments were by President-elect Donald Trump. 
• 96% of all incidents of xenophobic political rhetoric were motivated by anti-Muslim sentiment.
• total of 196 incidents, or 95%, of all documented hate violence and xenophobic political rhetoric were motivated by anti-Muslim sentiment.
One of these documented incidents of hate violence includes a case in Tulsa, Oklahoma, where Stanley Vernon Majors fatally shot Khalid Jabara, an Arab-American, after reportedly terrorizing his family, and calling them "dirty Arabs" and "filthy Lebanese."
Suman Raghunathan, SAALT's executive director, said that while there have been unfortunate — and very limited — incidents of hate crime reports that turned out found to be false, the vast majority of hate crimes go unreported and unseen. Raghunathan said there has been an alarming increase of hate violence targeting South Asian and Muslim communities.
"Based on our data and analysis, what we've seen was a steady troubling drumbeat that only continues to intensify with the respect the hostility and violence put on our communities on a daily basis," Raghunathan said by phone.
Data in SAALT's report were picked up from an online database of various reports from the Southern Poverty Law Center, including internet news searches, action alerts, media watchdog entities and a "crowdsourced database where members of the public submitted and viewed descriptions of incidents."
When asked if all 207 incidents of hate violence were verified by SAALT, Raghunathan said they were all verified largely — almost overwhelmingly — from media and news reports. She noted that there is a compelling hunch, from monitoring their crowdsourced database, that the number of hate violence incidents targeting the South Asian and Muslim community are severely underreported. 
"What we found is that the level of trauma [from hate violence] makes it extremely rare for victims to report the hate crimes themselves," Raghunathan said. "The actual real level of hate crimes in the U.S. to be estimated at least 20 to 30 times higher than the number reported to the FBI."
Raghunathan said with communities of color rapidly growing and the South Asian community becoming one of the fastest growing demographics in the U.S., it's imperative to re-examine the national conversation around race and religion.
"We believe at this moment our nation is at a crucial crossroads," Raghunathan said. "This is an important moment for us to recognize the power, pain and potential of South Asians and communities of color at-large as we continue to grapple as a nation what it means to be able to lean in and step into the root of our values."