Natalie Portman was paid three times less than Ashton Kutcher in 'No Strings Attached'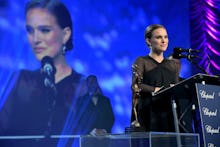 She was on the cusp of winning an Oscar, but she was still paid three times less than her co-star in a romantic comedy. Natalie Portman said in an interview with Marie Claire U.K. that, when filming the 2011 comedy No Strings Attached, she knew her co-star Ashton Kutcher was being paid three times more than her. 
Portman now believes she should have been more upset about the pay discrepancy than she was at the time, saying, "I knew and I went along with it because there's this thing with 'quotes' in Hollywood. His [quote] was three times higher than mine so they said he should get three times more."
"I wasn't as pissed as I should have been. I mean, we get paid a lot, so it's hard to complain, but the disparity is crazy," Portman said. 
Written by Elizabeth Meriwether and directed by Ivan Reitman, No Strings Attached, which chronicled a friends-with-benefits agreement that escalates into a romance, was released in January 2011, a few weeks before Portman won the best actress Academy Award for her performance as a troubled ballerina in Black Swan. 
The gender pay gap in Hollywood has been the subject of heightened focus in recent years, especially after the hacking of Sony exposed actors' salaries. Meryl Streep, a lauded actress who has won numerous awards, said she is paid less than her male co-stars. Jennifer Lawrence, one of Hollywood's most in-demand actresses, wrote an essay for Lenny Letter about the subject. 
Long considered a gifted actress since her big-screen debut in Leon: The Professional, Portman has filled her career with artistic and commercial successes, including an Oscar-nominated turn in 2005's Closer, a demanding role in the political thriller V for Vendetta and starring in the Star Wars franchise. She is considered a front-runner for a best actress nomination for the 2017 Academy Awards for her performance in Jackie, which follows the first lady in the days after her husband's death. 
"Compared to men, in most professions, women make 80 cents to the dollar. In Hollywood, we are making 30 cents to the dollar," Portman said.