'GTA 5 Online' update: Progen Itali GTB Custom car gets added to the game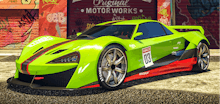 Rockstar Games continues to support Grand Theft Auto 5 Online with new content and updates, giving wealthy players new toys to play with and less well-to-do players new rewards to grind for. The Progen Itali GTB Custom is the next such reward in GTA 5 Online.
The latest GTA 5 Online update adds a new supercar.  It also includes the option to purchase your own private auto shop as an add-on for your corporate office, if you have money to burn.
GTA 5 Online: Progen Itali GTB Custom price and details
The Progen Itali GTB Custom costs about 1.2 million GTA dollars. If you pay $19.99 in real world money for a Shark Card for GTA Online you can have 1.25 million GTA dollars deposited into your in-game bank account. This gives you some idea as to the relative value of the Progen Itali GTB Custom. Rockstar advertises the speed and road control of the car and implies that it might be good for PvP racing.
More important than the car, however, is the new custom auto shop that "qualifying executives" can purchase, according to Rockstar's announcement. The idea of being able to step out of your corporate office and straight into an auto shop where you can mess around with your vehicle fleet without worrying about getting shot as soon as you leave the garage sounds wonderful.
More GTA Online tips and tricks
Check out Mic's GTA Online guides on how to get rich quick, run an auto theft ring, buy and sell property, increase your strength stat, treat yourself to plastic surgery and how to kill the Insurgent, one of the most powerful vehicles in GTA Online.