Photos of Selena Gomez and The Weeknd kissing spark dating rumors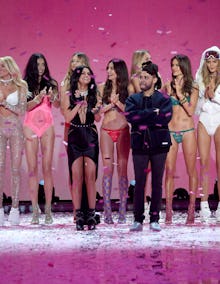 If a picture can speak a thousand words, then new images of Selena Gomez and The Weeknd might be talking about music's newest "It" couple. 
The singers were spotted kissing and hugging each other Tuesday night outside a restaurant in Santa Monica, California. TMZ was the first to report the images Wednesday afternoon.
This isn't the first time the pair have been seen together publicly. In November 2015, they both performed at the Victoria's Secret Fashion Show. 
At the time, The Weeknd was reportedly dating model Bella Hadid, but the pair broke up in December 2015. The couple rekindled their relationship before again calling it quits in November 2016. 
Gomez is connected to The Weeknd's ex via her friendship with Hadid's big sister, Gigi Hadid. This isn't the first singer Gomez has been linked to — she famously dated Justin Bieber on and off until 2014. 
2017 is just heating up, so there's plenty of time to see whether these public displays of affection mean the two are in a relationship, planning to release new music or just trying to get us talking.