Guy Fieri's Texas chili recipe is so rich and flavorful, you'll never turn back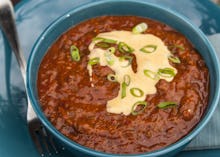 Guy Fieri knows his chili. The Diners, Drive-Ins and Dives host is pretty much always eating something meat covered on Food Network, and when it comes to game day, he's the chili chef.
Lifelong Oakland Raiders fan Fieri will be head chef for the all-you-can-eat Players Tailgate at Super Bowl LI in Houston. And although the celebrity chef may not be able to cater your Super Bowl party, you can still cook up his favorite chili recipe, because this Guy isn't messing around with meat. 
"I usually make chili on a Saturday before the big game," Fieri said via email. "It's a dish that's always better the day after, plus you don't want to be tying yourself up in the kitchen and miss all the action on game day." 
Fieri mentioned this chili is perfect for the Super Bowl because not only does the "rich and flavorful" pot feed a crowd, but it also pairs well with beer. He recommends setting up a DIY chili-toppings bar (shredded cheese, sour cream, tortilla chips — whatever!), so everyone can customize their own bowls . 
Guy Fieri's Texas Chili
Yield: 6 to 8 servings
• 2 dried chile de árbol chiles
Ingredients:
Directions:
Remove the stems and some of the seeds from the dried chilies, and tear into large pieces. 
In a large sauté pan over medium-high heat, toast the chilies until they start to change color, about 2 minutes. Add 1 cup hot water to just cover the chilies, cover and steam for 15 minutes. Place the chilies and liquid into a blender and puree until smooth. Pour into a bowl and set aside.
In a large Dutch oven over medium-high heat, add the olive oil, garlic, onions, red peppers, fresh chiles (Anaheims and Fresnos) and cook until the onions are translucent, about 6 to 7 minutes. Remove from the pan and set aside on a baking sheet or in a bowl.
Season the cubed chuck and ground beef with salt and pepper; then add to pot. Cook until well browned, about 7 to 8 minutes.
Add the chopped garlic, cumin, dried oregano, cayenne pepper and cinnamon. Sauté until fragrant, about 2 more minutes. Add the sautéed vegetables beef broth and pureed, reconstituted chilies, stirring to combine. Bring to a boil and reduce to a very low simmer. Simmer until the beef is very tender, and the liquid has reduced, about 2 hours. 
Stir in the beer and paprika until thoroughly combined. Add the masa to tighten sauce, and stir over low heat for 10 to 12 minutes breaking up some of the beef so it gets worked into the sauce slightly. Adjust salt and pepper to taste. 
Remove from the heat; cover and keep warm. 
Serve generous portions of chili in bowls and drizzle with Cheddar-beer cheese sauce.
Garnish with sour cream, scallions, red onion and crackers.
You can catch Fieri after the Super Bowl on Guy's Grocery Games Sunday, Feb 5 at 11 p.m. on Food Network.