Here's how Elizabeth Warren is leading the fight against Trump in Congress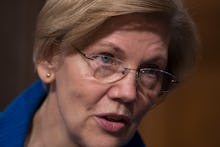 Many Democrats will be part of the effort to fight back against President-elect Donald Trump and the Republican Party's agenda for the next four years. Congressional leaders like Nancy Pelosi and Chuck Schumer are already prominent faces of what's quickly becoming a Democratic resistance, with name-brand politicians like Bernie Sanders out in front. 
One Democratic figure, though, is making a strong bid to become the most prominent of Trump's adversaries: Massachusetts Sen. Elizabeth Warren.
Warren was one of Trump's most vocal critics during the presidential campaign. Her words clearly stung the president-elect, who was frequently goaded into responding. Warren hasn't let Trump's victory stop her and has already started using her position and influence to resist his agenda.
Warren's first act is making life hell for Trump's cabinet appointees. Warren has a long list of questions she'd like to ask Ben Carson, Trump's nominee for Secretary of Housing and Urban Development — including examining his commitment to fixing the decaying state of public housing in America. 
She sent a similar letter to billionaire charter-school advocate Betsy DeVos, Trump's pick to run the Department of Education. The letter focused on DeVos' position on student debt, an issue Warren has been passionate about during her time in the U.S. Senate.
She also has her sights trained on Andrew Puzder, CEO of CKE Restaurants and Trump's choice to lead the Labor Department. Warren brought several Carl's Jr. employees to Capitol Hill to talk about Puzder's record on treating workers.
While the Republican majority in the Senate makes it hard for Warren and the Democrats to actually bring down a nominee, highlighting these issues makes them more visible and could ultimately help Democrats in the ongoing public-relations war.
Warren has also focused her ire on what has so far been Republicans' top legislative priority: repealing the Affordable Care Act. She's said Republicans need to "get real" and noted they still don't have a plan for how to replace the health care law. With the fight to repeal the ACA likely to be a tough battle in a closely divided Senate, this type of posturing could have significant impact.
Warren has taken her fight directly to the public, too, speaking at a protest in Boston last weekend demanding Republicans and Trump not repeal the ACA.
A host of Democrats and other progressives will likely join Warren in fighting back against Trump and Republicans as GOP leaders like Speaker Paul Ryan move on a conservative overhaul of U.S. policy. But the progressive senator has made it clear she'll be among the most effective leading voices of Democratic resistance.