Stunning photos show 'Game of Thrones' King's Landing filming location covered in snow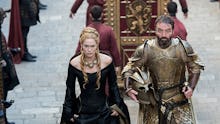 Winter has hit King's Landing — or at least Dubrovnik, Croatia, the city where Game of Thrones' King's Landing scenes are filmed. The city is currently covered in snow, and Mic has photos of the stunning location, courtesy of Telegram.hr.
Dubrovnik is home to the capital of the fictional Seven Kingdoms. While Game of Thrones fans are used to seeing members of the Lannister family stalking the streets, they've yet to be seen trudging through snow within the city walls — though the icy weather could be arriving in an upcoming season. As the Starks would say, "winter is coming."
Game of Thrones cast members Lena Headey, Nikolaj Coster-Waldau and Hafthor Bjornsson were last spotted filming for season seven in Dubrovnik in mid-December. Fan site Watchers on the Wall obtained photos showing the production team as they created fake snow for the set. 
Filming no longer appears to be taking place in Croatia, though. Following a brief break for the holiday, some members of the cast and crew now appear to be in Belfast, Northern Ireland. Star Emilia Clarke took to Instagram on Friday to share that they were back to work on the seventh season. Other fans spotted stars Kit Harington, Joe Dempsie and Paul Kaye filming in Iceland.