'Horizon Zero Dawn' Trailer, Story and Release Date: Video sheds light on Aloy's enemies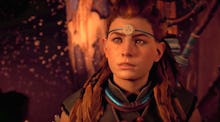 One of 2017's first major blockbuster gaming releases is Horizon Zero Dawn, an open-world adventure game that takes place in a post-apocalyptic world with giant, robot dinosaurs. It looks absolutely gorgeous so far.
On Wednesday, PlayStation revealed a new trailer that focuses entirely on its story. From the looks of it, the game's main character, Aloy, will be fighting against another tribe that's hijacking robot creatures for their own purposes. There also seems to be another, deeper plot line involving the world at large. Specifically, Horizon Zero Dawn will probably answer some questions about how the world got to its post-apocalyptic state. For now, though, it's anyone's guess. 
Horizon Zero Dawn Story Trailer
Horizon Zero Dawn Release Date
Horizon Zero Dawn will be available for PS4 on Feb. 28.
More video game news and updates
For more video game news, check out the latest from Mic. Here's a look at Warwick's rework in League of Legends, details on the latest patch on the Overwatch PTR, the latest Pokémon Sun and Moon patch and a video countdown to the Nintendo Switch livestream.