Yes, Steve Harvey, people do date Asian men. Meet 7 couples who defy your stereotype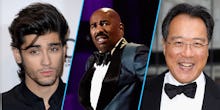 The only thing more ridiculous than Steve Harvey's mustache is his latest rant on Asian men. 
The comedian kicked off the Jan. 6 episode of the Steve Harvey Show with a segment poking fun at self-help books, but it eventually turned to a roasting of Asian men when the book How to Date a White Woman: A Practical Guide for Asian Men was brought up.
Harvey laughed at the concept of a white woman dating an Asian man and finding him attractive. 
"[The book is] one page too!" Harvey said, joking how white women don't find Asian men dateable. "Excuse me, do you like Asian men? No thank you." 
He then suggested publishers make a How to Date a Black Woman: A Practical Guide [for] Asian Men instead. Then prompted to mock how even black women won't find Asian men attractive. 
"Same thing," Harvey added. "You like Asian men? I don't even like Chinese food. It don't stay with you no time. I don't eat what I can't pronounce."
Unfortunately, Harvey's off-color remarks about Asian men is nothing out of the ordinary. Sasha Baron Cohen and Chris Rock both have faced backlash in the past for making racist punchlines on the expense of the Asian community.
Well, Mic made a list of seven famous mixed-race couples — Asian men dating non-Asian women — to prove just how inaccurate and unfunny these jokes are.
Zayn Malik and Gigi Hadid
Zayn Malik, solo artist and former member of One Direction, and his on-again-off-again model girlfriend Gigi Hadid have dated for about one year. The 24-year-old heartthrob is the son of a Pakistani father and an English mother. 
Bruce Lee and Linda Lee Caldwell 
Bruce Lee, arguably the most famous Asian Hollywood actor in history, met Linda Lee Caldwell when he gave a Kung Fu demonstration at her high school in Seattle. Caldwell then started taking Kung Fu lessons under Lee when she attended the University of Washington. 
The Enter the Dragon star married Caldwell in August 1964 and gave birth to two children: Brandon and Shannon Lee. Unfortunately, Lee died in July 1973 from cerebral edema. Twenty years later, Brandon was killed in a shooting accident while filming The Crow.
Caldwell teamed up with Shannon to start the Bruce Lee Foundation in order to keep her husband's legacy alive. She also wrote his biography, Bruce Lee: The Only Man I Knew, and became the basis for the biopic Dragon: The Bruce Lee Story.
Imran Khan and Jemima Goldsmith 
Imran Khan, a Pakistani professional cricket player, married Jemima Goldsmith in May 1995. They had a traditional Islamic marriage ceremony in Paris and Goldsmith converted to Islam prior to their wedding. 
The then-newlywed couple moved to Pakistan where Goldsmith continued to pursue her journalism career and supported Khan's involvement in philanthropy and politics. Goldsmith eventually became the associate editor of New Statesman and the editor-in-chief of Vanity Fair Europe.
In June 2004, after nine years in marriage, the couple divorced. 
Yo Yo Ma and Jill Hornor 
Yo Yo Ma, a world famous cellist, got to know former violinist Jill Hornor through several music festivals and through her work at the Greater Boston Youth Symphony Orchestra. Ma then began courting her through mail and by phone. Ma and Hornor married in 1978, approximately one year after he graduated from Harvard University.
George Takei and Brad Altman 
Star Trek star George Takei met his husband Brad Altman in the 1980s while both were members of LA Frontrunners, a running club for the LGBTQ community.
The couple kept their relationship a secret for about 18 years until Takei came out publicly in 2005. In 2008, they got married at the Japanese American National Museum in Los Angeles. 
James Lowe and Lorde
The "Royals" singer dated James Lowe, a New Zealand-based photographer, for about two years before splitting up at the end of 2015. Their relationship made headlines when rapper Tyler, the Creator Instagrammed a photo of them with the caption "Hhahahahahah," mocking Lowe. From there, teens began tweeting awful insults about Lowe's physical appearance and his being Asian.
In 2002, Indian textile heir Arun Nayar began dating model and actress Elizabeth Hurley. Five years later, in 2007, Nayar and Hurley got married at the Sudeley Castle in England and had a second traditional Hindu ceremony in India.
Before meeting Hurley, Nayar was married to Italian model Valentina Pedroni until they separated in 2002. Nayar and Hurley announced their split in December 2010.