9 Havasupai Native American children are suing the US Bureau of Indian Education. Here's why.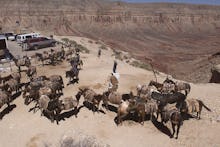 Nine schoolchildren from the Havasupai Indian Reservation in Supai, Arizona, filed a lawsuit Thursday against the United States federal government for providing them with an inferior education.
The Bureau of Indian Education — the federal agency that operates the children's school, Havasupai Elementary — is required by federal law to give Native children educational opportunities that "equal or exceed those for all other students in the United States." The suit alleges that BIE has fallen woefully short of that goal.
"Havasupai students and the Native American Disability Law Center ... bring this suit to hold the U.S. government accountable for these failures and to correct longstanding educational deprivations that have for years denied Havasupai children meaningful and equitable educational opportunity," the plaintiffs' complaint reads.
The only subjects taught at Havasupai Elementary are math, reading and writing. It lacks any kind of system to teach special education students, which make up roughly half the student body, according to the complaint. As a result, children with disabilities and behavioral disorders are routinely excluded from school activities, removed from classrooms, suspended, expelled or handed over to federal law enforcement as a result of their disciplinary issues. Some are compelled to leave the school altogether and pursue education away from their tribal homeland (Havasupai Elementary is the only school on the entire 188,077-acre reservation).
The school is persistently understaffed, leading to unsupervised classrooms, longterm vacancies and schoolwide shutdowns lasting weeks at a time. Havasupai Elementary doesn't even have a functioning school library. The most recent data, from the 2012-13 school year, showed that its students ranked in the 1st and 3rd percentiles — on a median scale of 1 to 100 — in reading and math, respectively. That puts them in last place among schools operated by BIE.
One plaintiff, an 11-year-old sixth grader named Stephen C.*, has Attention Deficit Hyperactivity Disorder. He is sent home from school three to four times a week, on average, leading him to miss about half of his instructional time, the complaint claims.
The nine children bringing the lawsuit are now asking for a federal judge to hold the defendants in violation of federal law, to cover the plaintiff's legal fees and "to provide appropriate compensatory and remedial education for all Plaintiffs, including those who previously attended but no longer attend Havasupai Elementary School."
Another plaintiff, a 6-year-old girl named Taylor P.*, was once pushed up against a wall and choked by a fellow student while her first grade class was left unsupervised. In a separate incident, she was sexually assaulted by another student.
A third plaintiff — Levi P.*, age 13 — is currently in eighth grade at a school in Yavapai County, Arizona. But when he was 10 and attending Havasupai Elementary, he was forcibly restrained by a teacher who sat and lay on top of him while he shouted, "I can't breathe. Get off of me. You're hurting me."
"None of [the BIE] officials would tolerate these conditions in their own kids' schools," said Kathryn Eidmann, an attorney with Public Counsel, a pro bono public interest law firm that filed Thursday's brief along with three other firms, the New Mexico ACLU and the Native American Disability Law Center. "There's just been complete neglect on the part of the government."
The BIE did not immediately respond to Mic's request for comment.
So why are things so bad at Havasupai Elementary? It's a combination of factors, but Eidmann says they're largely due to lack of political will. The school's dismal conditions are among the worst of any facility the Bureau of Indian Education oversees — which number 183 — but they are not unique. BIE schools are routinely among the worst-funded and lowest-performing in the nation. Students who attend these institutions graduate high school at rates nearly 20% lower than the overall Native American high school grad rate.
What's more, the offenses listed above are only a fraction of those named in the complaint. Among others, the BIE has also failed to provide a "culturally relevant" education to Havasupai students, which includes declining to teach them any classes in their tribal language, or any language other than English.
Few outsiders know about the conditions at BIE-run schools. And since the BIE is a federal agency, states are not held responsible for the schools that it operates.
These failings are exacerbated by a lack of accountability or oversight. The US Government Accountability Office has found that the Bureau of Indian Education consistently fails to provide its schools with adequate administrative support. The agency has also misappropriated millions of dollars earmarked to improve BIE schools while failing to ensure the schools themselves spend the money properly. In the first half of 2014, auditors identified $13.8 million in illicit spending by 24 BIE facilities. One of these schools lost $1.2 million it had illegally transferred to an offshore bank account.
Perhaps worst of all is that the federal government knows — and has known for a long time — that it is failing these Native children. Sally Jewell — the U.S. Secretary of the Interior, who is named as a co-defendant in the lawsuit along with the DOI — told a Senate committee hearing in 2013 that "Indian education is an embarrassment ... to you and us." In 2015, Arne Duncan, the U.S. Secretary of Education, declared the BIE education system "[the] epitome of broke. Just utterly bankrupt."
"I hope this lawsuit changes something at the school," said Lila R., the mother of Leo and Levi R., two of the plaintiffs, "because what's been happening there for years is wrong."
*The complaint only provides the children's first names and last initials.