Takeaways from Senate confirmation hearings: The latest on Rex Tillerson and Jeff Sessions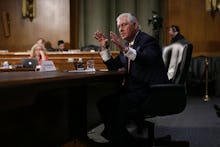 7 takeaways from Senate confirmation hearings
Donald Trump's nominees for secretary of state, secretary of labor and attorney general appeared before senators Wednesday. Questioning of the potential secretary of state went on for more than nine hours, while the hearing for the labor nominee was relatively short and uneventful. The second attorney general hearing included testimony from civil rights activists and politicians concerned that Trump will roll back voting rights protections for minorities.
Here are seven takeaways from the day on Capitol Hill:
1) Marco Rubio vs. Rex Tillerson. The Republican who could control Rex Tillerson's fate in the Senate aggressively questioned Trump's nominee for secretary of state. Rubio, the Florida Republican who lost to Trump in the presidential primaries, pressured Tillerson to call Russian President Vladimir Putin a "war criminal" and noted the former ExxonMobil CEO's record of working with countries that have poor human rights records. "I find it discouraging, your inability to cite that," Rubio said of Tillerson's refusal to call Putin a war criminal. In the second line of questioning, Tillerson told Rubio, "There seems to be some misunderstanding that somehow I see the world through a different lens. I do not." Tillerson's responses drew concern from Amnesty International, whose executive director Margaret Huang said, "Tillerson's commitment to human rights in the U.S. and abroad is in serious question."
Rubio could be the swing vote on the Senate Foreign Relations committee, where Republicans hold a one-vote margin over Democrats. After the hearing, Rubio said he would not commit to vote for Tillerson. (CNN) While Tillerson could be brought up for a vote in the full Senate, failing to win a recommendation from the committee would not bode well for his chances. Republicans hold a 52-to-48 advantage in the broader body, with Vice President-elect Mike Pence soon to be a tiebreaker.
2) Tillerson and Russia. Senators pressed Tillerson on how he made ExxonMobil the key foreign oil and gas player in Russia during his time as CEO, pointing out Exxon has interests in Russia the size of Wyoming. Questioned about how he would handle Russia as secretary of state, Tillerson said his job would be to serve the interest of the American people — a different interest than that of ExxonMobil shareholders. "Those who suggest that anyone who can run a successful business can, of course, run a government agency do a profound disservice to both," said Ben Cardin, a Democratic senator from Maryland.
Tillerson repeatedly said he would demonstrate strength with Russia, arguing his approach would differ from weakness shown by President Barack Obama's foreign policy. But he declined to say he was willing to continue existing sanctions against Russia, and misspoke about Exxon's role during his tenure in lobbying against sanctions toward Iran.
Notably, Tillerson said he did not favor any international increase in nuclear weapons — as Trump has — and did not express staunch opposition to free trade — as Trump has. More on Tillerson's disagreements with Trump from Mic's Emily Singer.
3) Climate change and the secretary of state.  The other headline out of Tillerson's hearing was his refusal to unequivocally accept climate change as a man-made phenomenon. Tillerson said some of the science was inconclusive, drawing a rebuke from Democratic Senator Tom Udall: "I'm sorry to hear that viewpoint," Udall said, "because it's overwhelmingly — the scales are on one side of this argument." 
Tillerson also did not directly address a question about whether the United States should cut down on foreign oil imports. Instead, he said putting up barriers to bringing oil into America would put the country at a "competitive disadvantage." Further, he said "a barrel of oil is a barrel of oil," and that it did not matter where the oil was produced — never mind the potential impact of buying oil from a Middle Eastern country rather than producing it domestically.
4) Attacks on Jeff Sessions' civil rights record. Trump's nominee for attorney general had a relatively easy first day in front of his fellow senators on Capitol Hill. The second day was different. Rep. John Lewis, Sen. Cory Booker, the president of the NAACP and others testified the Alabama senator's record shows he would not intervene on the state and local level to preserve access to the vote. And Lewis, a civil rights leader who was beaten in Selma, Alabama, while trying to march over the Edmund Pettis Bridge, compared Sessions' focus on "law and order" to the state troopers who attacked him decades ago. 
5) Cory Booker in the spotlight. Booker's testimony was the first time a U.S. senator testified against his fellow senator up for confirmation to the president's Cabinet. It was also a high-profile political move: Booker, a 47-year-old African-American Democrat from New Jersey, described living in neighborhoods plagued by drug use and violent crime. Booker said he could not count on Sessions to enforce the law equally for minorities on voting rights, drug offenses and other issues. He hit especially hard on Sessions' civil rights history, saying the fact that the Alabaman does not believe the federal government should involve itself in state voting disputes disqualifies him from the role of attorney general. Booker is considered a rising star in the Democratic party and was a potential running mate for Hillary Clinton. Some believe he will mount a presidential bid in 2020.
6) Open road for Trump's transportation nominee. Elaine Chao drew bipartisan praise at her three-hour confirmation hearing. (New York Times) Chao, the wife of Republican Senate Majority Leader Mitch McConnell, has experience as both a cabinet-level secretary and a deputy-secretary. Chao will oversee one of Trump's core campaign promises: to invest billions of dollars in repairing and rebuilding America's infrastructure. Lines of questioning suggested the longtime Washington insider will have an easy confirmation.
7) Trump's nominees break with his positions. On both Tuesday and Wednesday, Trump's Cabinet picks differed with the incoming president on everything from building the wall to abortion.
— Tillerson and Sessions both said they would not support a ban on Muslim immigration
— Gen. John F. Kelly, Trump's nominee for secretary of homeland security, said Tuesday a wall on America's border with Mexico would be insufficient to secure the U.S.
— Tillerson did not echo Trump's disdain for free trade, and said Russia is a danger to American security.
— Kelly and Sessions both said they opposed waterboarding on Tuesday. (Mic)
This is Mic's daily read on Donald Trump's America — and how it affects you. Welcome to the political newsletter that does not own a part of Russia the size of Wyoming.
The latest from Trump's press conference
Trump held his first press conference in five months — and it was quite a show. 
The first major takeaway: Trump will not divest from his businesses. Though several of his Cabinet secretaries and White House officials plan to sell off their financial interests, Trump said he will place two of his sons in charge of his businesses and relinquish all management roles. (Huffington Post) He will continue to receive some information, like high-level revenue figures, but will reportedly not have any influence over his financial interests. Further, Trump said his companies will not make deals overseas while he is president.
Not divesting still leaves the door open to conflicts and nepotism. (Mic) Trump's organization has numerous existing deals with companies abroad, and leaving his sons in charge of the business opens Trump up to being influenced by his family.
Trump also addressed reports the Russians have information they can use to blackmail him. He blasted BuzzFeed and CNN for publishing stories about the allegations and repeatedly said all of the accusations against him are false. Here is Mic's Celeste Katz on the impact of Trump's continued attacks on the media. (Mic) And Trump had paid aides fill the room during his press conference, clapping and cheering as he criticized journalists and yelled at reporters. (Politico)
Trump did say he believes Russia was behind hacking in the U.S. election. But he continued to say that various countries, including China, also hack the U.S. and must be comprehensively targeted. (Mic)
Director of National Intelligence James Clapper expressed "profound dismay" to Trump late Wednesday night, according to a statement from Clapper's office. Clapper said that while the allegations have circulated among Washington D.C. officials for months, it is not an intelligence community report and none of its allegations have been verified. Clapper called the leaks — referring to BuzzFeed posting the 35-page document Tuesday — "corrosive and damaging to our national security." 
Up next: Thursday's cabinet hearings
— Retired Gen. James Mattis, nominee for secretary of defense
— Ben Carson, nominee for housing and urban development secretary
— Mike Pompeo, nominee for director of the CIA
— Rex Tillerson, nominee for secretary of state, returns for a second day of hearings
Navigating Trump's America will cover the hearings all week, in this space and at mic.com/navigatingtrumpsamerica.
Senate moves to repeal Obamacare
The procedure was complex, but the impact is simple. Stretching into the early hours of Thursday morning, the Senate passed a resolution that will set in motion the repeal of the Affordable Care Act. By a vote of 51-48, with Kentucky Sen. Rand Paul the only Republican voting with Democrats, the Senate took the first concrete step toward repealing Obamacare.
The marathon session was stretched by senators offering dozens of amendments to prolong debate in a "votearama." Democrats made Republicans vote down popular, specific provisions of the law — like allowing children to stay on their parents insurance until they are 26-years-old — to focus attention on GOP opposition to parts of the law Americans support. And the Republicans used the time to blast Obamacare as a law in desperate need of revision. 
The final vote — to approve a budget resolution — was largely symbolic. But it begins the process by Republicans to repeal Obama's signature healthcare law. And it gives the GOP a self-imposed deadline of Jan. 27 to come up with new language to replace a law that took two years to pass — though some senators have called that date a "placeholder." (The Hill)
Earlier this week, Trump called on the GOP to repeal the ACA and replace it within weeks of his inauguration. Much is on the line, including health insurance coverage for 20 million Americans. Some of the Affordable Care Act provisions Republicans voted against on Wednesday: Coverage for people with preexisting conditions, benefits for veterans and money for rural hospitals.
And here's the Wednesday Trump tweet you cannot miss: