Senate Republicans have approved an Obamacare "repeal resolution"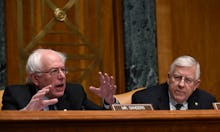 Republicans in the Senate have voted on a budget process that they're terming the Affordable Care Act "repeal resolution," according to CNN. The Senate reached a 51-48 decision, voting along party lines, at around 1:30 a.m. Thursday morning.
"This resolution will set the stage for true legislative relief from Obamacare that Americans have long demanded while ensuring a stable transition," Senate Budget Chairman Mike Enzi (R-Wyo.) said. "The Obamacare bridge is collapsing and we're sending in a rescue team."
The vote is a definitive sign that Republicans intend to make good on their promise to repeal President Barack Obama's historic health care legislation, though it still remains unclear whether they have any ideas for what will replace it. 
President-elect Donald Trump himself admitted that both parties will have to "get together and come up" with an alternative plan, yet at his Wednesday press conference reassured Americans a replacement for the ACA would come "essentially simultaneously" with its repeal.  
"It will be various segments, you understand but will most likely be on the same day or the same week — but probably the same day — could be a same hour," he said Wednesday. 
Thursday's vote followed what's known as a "vote-a-rama," a marathon stretch during which senators offered amendments and engaged in lengthy debates that prolonged the proceedings into the early hours of the morning. 
As Mic previously reported, Democratic senators used this opportunity to force Republicans to come out against more popular parts of the Affordable Care Act, like allowing children to stay on their parents' insurance until they're 26. Meanwhile, Republicans doubled down on their insistence that the legislation does more harm than good for Americans.
Though the vote was largely symbolic, Sen. Bernie Sanders warned it's not to be taken lightly: What's to come will have a serious impact on people's lives.
"I think it's important for this country to know this was not a usual thing, this is a day which lays the groundwork for 30 million people to be thrown off their health insurance," Sen. Bernie Sanders said, according to CNN.
"And if that happens, many of these people will die."