2 suspects have been charged in connection with the Paris attacks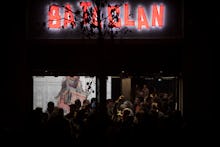 Two unnamed suspects have been charged with helping carry out November 2015's Paris attacks, which left 130 people dead and hundreds wounded. 
According to CNN, the two individuals allegedly provided false documents to Khalid El Bakraoui, the man who later detonated a suicide bomb on a Brussels subway train while his brother did the same at Brussels Airport in March.  
The two suspects are in Belgian custody. 
This story is developing and will be updated when more information becomes available.