'Feud' release date: Ryan Murphy's newest series gets premiere time and a full title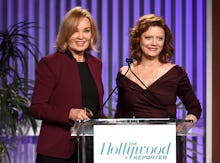 Ryan Murphy's latest anthology series, Feud, now has a season title — and a release date.
The season, which will chronicle the ins and outs of Bette Davis and Joan Crawford's tense relationship on the set of What Ever Happened to Baby Jane?, will debut March 5. The series, which stars Susan Sarandon as Davis and Jessica Lange as Crawford, is titled, appropriately enough, Feud: Bette and Joan.
"The series explores how the two women endured ageism, sexism, and misogyny while struggling to hang on to success and fame in the twilight of their careers," Feud network FX said in a statement.
The series marks Murphy's third anthology for FX, following in the footsteps of American Horror Story and American Crime Story. The series also stars Alfred Molina, Stanley Tucci, Judy Davis and Jackie Hoffman, plus guest stars like Catherine Zeta-Jones and longtime Murphy collaborator Sarah Paulson.
FX screened the first two episodes of Feud at the Television Critics Association winter tour in Los Angeles Wednesday evening, and the early reviews are all good news.
Feud premieres on FX on Sunday, March 5, at 10 p.m. Eastern.