Khloé Kardashian's 'Revenge Body' reality show is already under fire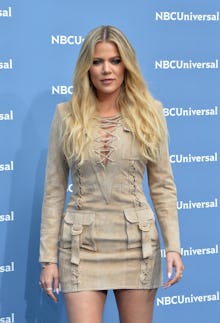 On Khloé Kardashian's latest reality TV show Revenge Body, "haters are the motivators." Kardashian uses her weight loss journey to mentor a series of participants to get on track with their fitness goals, especially those who have experienced being bullied for their weight in the past. She hears the participants' stories and hooks them up with a wellness team to make their goals come true.
This may be the most personal endeavor Kardashian has taken up in her career. But this hasn't come without disapproval, as she's being called out by wellness experts, fans and media who say the show which, premieres Thursday on E! at 8 p.m. Eastern, isn't body positive.
For the past few days, Kardashian has been beefing up promo of her show by posting before and after photos of her body. She recently posted this photo on her Instagram account explaining what inspired her to take on Revenge Body.
"Thank you for the opportunity to allow me to help those who feel lost and silenced by their pasts," she wrote in a post Tuesday. 
"You are not alone and together we will get our happy and healthy back!! Revenge body is deeper than a physical transformation. It is a spiritual and emotional transformation. The physical part is a bonus!" she continued.
Kardashian says in her own journey, her weight loss was not revenge against any one person in particular, but a result of searching for a way to let go of stress from over the years, as well as from teasing she had endured.  
"Even just like everyone who called me fat. Or I'm 'the fat sister' or this or that," she told E!. 
"But I didn't seek that out intentionally. Mine was a byproduct of me really trying to just destress myself and as a side effect I was like wow, I started losing weight."
But not everyone is buying into Kardashian's messaging on the show. 
Rebecca Clyde of Nourish Nutrition Co., wrote on Facebook that the idea of "getting back at your ex with a 'revenge body' is not empowering, nor is it body positive. It can't be, it is the antithesis."
Others carried a similar sentiment and have been tweeting their issues with the show in the past few weeks. Many seem to agree that the series is not promoting body positivity. 
Revenge Body is also under fire by some media critics. Amy Zimmerman of the Daily Beast wrote that the show "unabashedly promotes Western standards of beauty, and preaches that a thin physique and conventional attractiveness are weapons that can be wielded against your haters and exes."
Wendy Williams doesn't agree with the naysayers above. In fact, she loves the idea of the series. "People can be so mean about weight or color or hair texture or whatever. I think revenge is sweet honey," she said on her show. But she does take issue with Kardashian being the face of the show.
"However, she's not the right host for this show because I think that she's been less than truthful as to how she got the body," she continued. Williams went on to imply that Kardashian had work done on her body. 
Kardashian has admitted to getting facial fillers on her show Kocktails With Khloé, but she eventually removed them. She has denied other plastic surgery rumors in the past, taking to Twitter in 2015 to deny liposuction rumors.
Revenge Body airs Thursday on E! at 8 p.m. Eastern.