The 'Beauty and the Beast' soundtrack features a duet from Ariana Grande and John Legend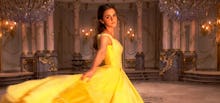 It's a tale and song as old as time, and now it's being reimagined by Ariana Grande and John Legend. The singers are recording a duet for Disney's upcoming live-action Beauty and the Beast movie.
"Beauty and the Beast," the iconic title track from the 1991 film, sung by Angela Lansbury in the movie and recorded by Celine Dion and Peabo Bryson for the film's soundtrack, is getting another rendition thanks to Grande and Legend. 
The soundtrack for Disney's live-action version of Beauty and the Beast, starring Emma Watson, is set to be released on March 17. Grande gave fans a tease at the recording session for the song on Instagram Tuesday. She simply captioned the picture with a rose emoji.
The timeless track won best original song at the 1992 Academy Awards. Alan Menken and Howard Ashman wrote the music and lyrics for the animated classic. Menken scores the live-action version and the pair has written new music for the film. 
In case you forgot, here are the lyrics for the iconic song, courtesy of AZLyrics.
Tale as old as time
Just a little change
Tale as old as time
Certain as the sun
Tale as old as time