'RuPaul's Drag Race' season 9 cast: Meet the queens competing for the crown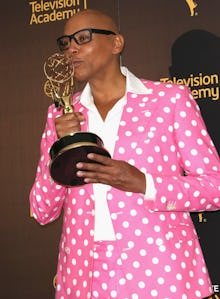 Just after you got a taste, RuPaul's Drag Race gave you the whole dessert. Logo's reality competition series announced its season nine cast Thursday in a trailer posted to their website. The trailer introduces fans to the crop of drag queens fighting for the title of America's Next Drag Superstar.
This year's crop is a fascinating bunch, with a strong divide between performers and look queens reminiscent of season seven. As with nearly every season, there's one queen who looks to be a master lip-sync artist. For season nine, that queen is Aja, who'll likely shake things up whenever she falls into the bottom two and is forced to lip sync for her life. But we're getting ahead of ourselves.
As with last season's reveal, users of Drag Race's popular subreddit managed to guess virtually the entire cast ahead of time.
Season nine will premiere in March. In the meantime, meet the 13 queens competing on season nine, complete with some of their work.
Aja
This Brooklyn queen follows in the footsteps of such tight lip-syncers as Coco Montrese (season five) and Bob the Drag Queen (season eight). Stare in awe as she tears into Busta Rhymes' verse on "Look at Me Now."
Alexis Michelle
A theater queen from New York, Alexis brings a contemporary-to-classic balance to her work. Previous theater queens like season five champion Jinkx Monsoon were more old-school.
Charlie Hides
Giving a little British flair to the proceedings, Charlie is a U.K. queen. Can she do what Australian Courtney Act couldn't and become a foreign America's next drag superstar?
Eureka O'Hara
Drag Race's first big girl in a couple of seasons (since season eight didn't feature one), Tennessee queen Eureka brands herself "the elephant queen."
Farrah Moan
Farrah is a Vegas queen, following in the footsteps of last season's pseudo-villain and Britney Spears impersonator Derrick Barry. Perhaps she'll perform as Mariah Carey in this season's Snatch Game?
Jaymes Mansfield
Milwaukee's own Jaymes Mansfield is an active YouTuber — an important quality for success post-Drag Race. Just ask Alaska (All Stars season two winner), Alyssa Edwards (season five), Katya and Trixie Mattel (both season seven). She's also clearly got a deep knowledge of drag herstory, something Ru loves to see in her girls.
Kimora Blac
Kimora is another Vegas queen with a strong, breast-first aesthetic. She's the Instagram star of the bunch.
Nina Bo'nina Brown
Atlanta queen Nina Bo'nina Brown is this year's makeup queen. Her looks range from freaky to fabulous.
Peppermint
Like Sonique (season two), Kenya Michaels (season four) and Monica Beverly Hillz (season five), Peppermint is a trans queen. Unlike most who have come before her, who came out either during or after the show, she was out before her season filmed. Will the series — which has had trouble with trans women in the past — fittingly acknowledge her status?
Sasha Velour
Yet another New York queen! Sasha's got looks for days, reminiscent of season eight's Acid Betty (also a New Yorker). Will those looks take her far?
Shea Couleé
Shea is from Chicago, not New York, and thus we appreciate her. We also appreciate her stunning looks.
Trinity Taylor
Trinity marks one of few queens who shares a name with another former contestant on the show (along with season one and five's Jade Sotomayor and Jade Jolie, and season three and nine's Alexis Mateo and Alexis Michelle). Interestingly, she once beat Alyssa Edwards in a pageant. She is also an Orlando queen, thus talk of the Pulse nightclub shooting is almost inevitable.
Valentina
We already met her, but for those who haven't: Valentina is the only Los Angeles queen of the bunch, and as such will be playing on home turf this season. Notably, Valentina is a very cute boy out of drag, which is a great way to amass fans of the show. (Just ask season six's Milk or season seven's Pearl.)