Melania Trump's makeup artist calls out the designers refusing to dress the new first lady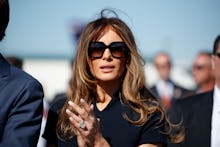 Makeup artist Nicole Bryl has a very important job. She's the woman responsible for getting Melania Trump's eyeshadow just dark enough, her contouring just smooth enough and her lips just shiny enough. She'll even be doing her makeup on Inauguration Day. 
Having worked with Melania Trump on and off for 11 years now, she feels like she knows the woman. And because of this, she's striking back at all the designers who have refused to dress her or really anyone in the Trump administration. 
In an interview with Women's Wear Daily, Bryl wasn't shy about her feelings regarding those designers — like Tom Ford, Marc Jacobs, Derek Lam and Sophie Theallet — that have already renounced the idea of ever dressing Trump. 
"I find it beyond ironic because, before politics became a factor, all major A-list designers from all over the world were dying to dress her," Bryl told WWD. 
"Creatives in the fashion world have always adored her. Why now, because of their difference in political views with her husband, would they, as artists, boycott? I'm sorry, but this just seems unkind," she continued. 
"Thank goodness Melania doesn't even in the slightest get upset about these things. She is impressively one of the most self-assured, self-confident women I have ever known, and the only one who gets flustered about this sort of talk is me and those who know her and care for her the most." 
Granted, many of the designers who have expressed opposition do have logical reasons of their own. Tom Ford, for example, didn't think the Trumps should wear his clothes because they're not made in America, and they're awfully expensive. 
But, as Bryl noted, apparently Trump really doesn't care either way. So we'll just have to see how all this shakes out.