Trump once funded a conservative provocateur now trying to pay for inauguration violence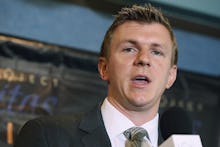 Hidden camera stings, fake names, offers of "unlimited resources" for secretly inciting a riot — it's like Spy vs. Spy, only for Beltway nerds.
In a dramatic video of a hidden-camera "sting," progressive organizers and journalists caught an alleged employee of a conservative strategy group offering up hundreds of thousands of dollars to liberals as payment for causing violent mayhem at President-elect Donald Trump's inauguration, the Huffington Post reported.
The attempt bribing people to incite violence is a small part of a larger conservative attempt to paint anti-Trump protesters — particularly on Inauguration Day — as violent anarchists looking for a fight. Along with conservative op-eds about angry anarchists, there is evidence suggesting organizers for the alt-right planted a "Rape Melania" sign at an anti-Trump protest.
The latest flap, where a right-wing operative was caught trying to incite violence on Inauguration Day, arose because of a tip to the progressive political organization American Family Voices, or AFV, leading to an investigation by the group's own news show The Undercurrent. AFV heard that James O'Keefe, an infamous conservative sting artist himself, was offering to fund violent disruptions during the inauguration as part of a conservative dirty tricks campaign. 
O'Keefe is a protege of Andrew Breitbart, the late founder of the eponymous now-pro-Trump website, and has been arrested and sued for various stunts. He has stood accused of doctoring videos to defame and defund progressive group ACORN, and once pleaded guilty to entering a senator's office dressed as telephone repairman under false pretenses.
That's not all. Since striking out on his own with Project Veritas, O'Keefe has also received funding by Trump's charitable foundation — and was even Trump's guest to the final presidential debate against Hillary Clinton.
AFV, confronted with rumors of a Trump-linked operative working to incite anti-Trump violence to smear liberals, sought to set up their own sting. Working with Ryan Clayton of the progressive group Americans Take Action, the group sought a meeting with a representative of a mysterious "Mr. Simon," who was said to be coordinating the campaign to incite violence on Inauguration Day.
When Mr. Simon's representative arrived at a restaurant for a meeting, it was none other than Allison Maass, a Project Veritas operative who has, in the past, tried to infiltrate the presidential campaigns of both Clinton and Vermont Sen. Bernie Sanders.
"What you're asking for, let's bullet point it," Clayton said in an extended clip of the video. "I'll give you $100,000 to shut down a bridge, incite a riot and make sure we hack the media narrative on the inauguration."
"You said you could do stuff like that," Maass confirms. "He says he likes it. Would you actually do it?"
After negotiating over possible disruptions, Clayton confronted Maass, who said she wouldn't speak without a lawyer and left. Mic has reached out to Project Veritas for comment, and will update this story with any additional information.
Trump himself has accused protesters disgusted by his election of being paid. Of all of the attention on counter-inaugural protests so far, though, the only reported offer of money to protestors came from a conservative operative — one who in the past has been funded by Trump. 
Correction: Jan. 14, 2017