'Jessica Jones' Season 2: Casting, rumors and everything we know so far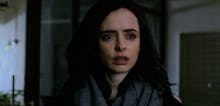 Since Netflix only premieres two Marvel shows a year, it's felt like ages since Jessica Jones fans binge-watched season one. Unfortunately, we're not likely to welcome season two until early 2018. Still, even if that's a year away, we have some idea of what to expect and a few rumors to sustain us until then.
Casting news
As Emma Dibdin of Esquire points out, the cast of Jessica Jones season two will be markedly different from season one — after all, Kilgrave is dead and Luke Cage is preoccupied with his own show. According to Esquire's interview with showrunner Melissa Rosenberg, Jessica's adopted sister, Trish (Rachael Taylor), will play a more central role than she did in season one.
More backstory
Rosenberg made statements at the Television Critics Association press tour that imply season two will further explore Jessica's backstory. 
"I think I just want to continue with her character," Rosenberg said. "She's a very damaged character and her damage goes beyond Kilgrave. There's a lot to mine from in her backstory and in her present-day situation. I think we'll find something."
On a panel at Vulture Festival in New York in May, star Krysten Ritter said she believes season two will see more of her character's struggle as a rape survivor — even if Kilgrave is dead.
"[Kilgrave] was her reason for getting up at 3 o'clock in the afternoon," Ritter said. "She spends most of the show trying to get him into prison. She doesn't want to kill him, but that becomes her only choice."
She added: "I don't think all that trauma and PTSD goes away now that she kills him."
More from the comic
At the TCA press tour, Rosenberg also said she wants to continue drawing from the Marvel comics in season two — though that doesn't mean we can expect the most literal adaptation. The Marvel Cinematic Universe doesn't always strictly follow the world created in the comics.
"I will always use as much as I possibly can from the comic book," she said. "The [Marvel Cinematic Universe] is very different in terms of its mythology. In the books, everyone knows superheroes are walking around, there's a lot of things building toward Secret Wars. We're probably not going to be able to do totally parallel storylines. But I take every little piece I can because it's so good."
The hearsay
As Cheat Sheet writer Nick Cannata-Bowman observes, those who read Jessica Jones comics probably recognized Trish "Patsy" Walker as Hellcat. So will Trish be making her Hellcat appearance in season two? 
Cannata-Bowman thinks so. May the mixed martial arts begin!