3 big numbers that show how much money an Obamacare repeal could cost millennials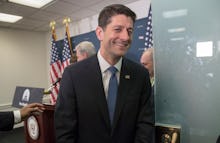 If you're a millennial who's still on Mom and Dad's health care plan for 2017, it might be a good idea to get your next checkup on the books.
Why?
The future of your health insurance is a big unknown — and by 2018 you won't necessarily be able to count on the same coverage you get now.
Republicans are gunning to repeal the Affordable Care Act. Wednesday night's resolution from the GOP-led Senate is drawing fire for its late-night passage, and for beginning the process of repealing the Affordable Care Act through a budget resolution — which can be passed with a simple majority.
GOP congressional leaders have so far not offered any details about a replacement law.  
Proponents of the law worry that several of its popular components — including free preventative care and the provision that lets people stay on their parents' health care plan up to age 26 — could still end up repealed despite some assurances from President-elect Donald Trump. 
In a press conference on Wednesday, Trump implied that a replacement would be on hand "almost simultaneously" with the ACA's repeal. Further, the president-elect previously suggested that popular parts of the bill would be left in place.
Prohibitions against denying people coverage based on preexisting conditions — including common conditions like asthma and diabetes — and rules requiring insurers cover birth control could be on the chopping block as well. 
The resolution will now be sent to respective committees to draft budgets for next year. 
The vote is unlikely to be very popular: Only 14% of Americans favor repealing the ACA without arrangements for a replacement, according to an NPR/IPSOS poll released this morning. 
Assuming the law is repealed, here are three big numbers that show how much money millennials may have to start forking over for health care.
New health insurance to replace Mom and Dad's: $2,940+ a year 
The cost of health insurance varies wildly from person to person and from state to state. In 2017, the average monthly premiums for a 40-year-old non-smoker in Albuquerque, New Mexico, is around $186 a month; in Anchorage, Alaska, the average premium is $719. 
Luckily, if you're still young enough to be covered by your parents' insurance through the ACA, then your premiums should be on the cheaper side. 
Premiums for 40-year-olds were about 30% more than those for 21-year-olds in 2016 on average, according to ValuePenguin. So instead of paying an average monthly premium of $350.23, they'll probably pay around $245 a month.
What a bargain! Sigh.
Birth control copayments: $600
A second popular component of the law is a provision requiring insurers to provide access to birth control without a patient co-payment. 
These co-payments can be as high as $50 a month, or $600 a year.
Emergency room visit with a preexisting condition: $740+
The most disconcerting prospect of the law's repeal is what will happen to people with preexisting conditions like diabetes, asthma, depression and more.
Before the passage of the ACA, roughly one in seven applicants for health insurance couldn't get coverage from any of the major insurers — at any price. 
As the Atlantic noted, a full repeal could end up raising premiums for Medicare and Medicaid recipients as well, including disabled young Americans. 
That's why Vermont Sen. Bernie Sanders didn't mince words when talking about the stakes of the repeal, arguing on the Senate floor that without a plan for getting those kinds of people health care, "many thousands" of people could actually die. 
Without insurance to help cover doctor visits and prescriptions, people will end up relying on hospitals and emergency rooms to get care, where the average cost of a visit without insurance starts at $740, according to a 2013 study from the National Institute of Health.
And that figure can obviously be much, much higher for more serious conditions and treatments. 
Of course, not everyone stands to lose out on so much cash if the law goes down. 
Roughly 400 ultra-rich American families could get a fat tax cut — worth an average of $7 million per family — if the law is successfully repealed.
Sign up for The Payoff — your weekly crash course on how to live your best financial life.