Obamacare Repeal: How Thursday morning's vote could affect your health care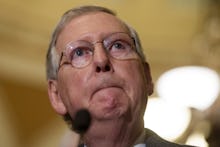 Republicans have taken the first step toward repealing the Affordable Care Act.
In a 51-48 vote early Thursday, the U.S. Senate approved a budget resolution that will allow Republicans to repeal the Affordable Care Act with a simple majority of 51 votes rather than a 60-vote supermajority. Republicans control 52 seats in the Senate. 
Republicans also control the House of Representatives, which is expected to vote on the resolution this week. 
Democrats strongly opposed the measure. Sen. Bernie Sanders, an independent, sharply criticized Republicans for attempting to repeal the law without proposing a plan to replace it.
"I will yield to my friends if they will tell me now what their replacement is," Sanders said. "How many of those 30 million people are going die, what's your plan to cover them?"
During the marathon vote, which began Wednesday evening and carried on into the wee hours of Thursday morning, Democrats proposed amendments to keep some of the most popular provisions of the landmark legislation in place, including one protecting people with pre-existing conditions. 
The Republicans voted against the measures, but say that their plan will keep those provisions in place. 
Senate Minority Leader Chuck Schumer criticized the measure, tweeting that tens of millions of Americans would lose their insurance as a result of it.
The next step in the repeal process
Republicans, who have long sought to repeal President Barack Obama's signature health care law, celebrated the result of the late night Senate vote.
House Speaker Paul Ryan released a statement saying Obamacare has "failed" and said Republicans are keeping their promise to move quickly toward a repeal.
Vice President-elect Mike Pence tweeted "kudos" to the Senate and called on the House to "get job done."
In his news conference yesterday — his first since July — President-elect Donald Trump promised the health care law would be repealed and replaced "essentially simultaneously," but did not give a plan for replacement.
The resolution gives legislative committees until Jan. 27 to draft legislation to repeal the health care law.
But some Republicans are uncomfortable with rapidly repealing the law without a concrete path forward and want to delay the deadline until March.
"We need to make sure that we have at least a detailed framework that tells the American people what direction we're headed," said Sen. Susan Collins, a Republican from Maine.
What this means for your health care
Thursday's vote will make it a lot easier for Republicans to repeal the Affordable Care Act, but they will still need the full supermajority to replace it. That could mean the Trump's promise to "bring it all together concurrently" will be a little tougher to keep.
Trump has also put Republicans in a "nearly impossible position of having only weeks to replace a health law that took nearly two years to pass," according to the New York Times. The president-elect appears unaware of the difficulty of his demand, the Times reported, and key details about the plan — such as its effective date and how it would be phased in — have yet to be touched. The Jan. 27 deadline Republicans set is not enforceable and may be subject to change.
But Trump is pushing to fast-track the repeal, pushing Republicans to move quickly and threatening to campaign against Democrats who attempt to stand in his way, according to the Times.
The House of Representatives is expected to vote on the Senate resolution Friday.