After Donald Trump tweeted to "Buy L.L.Bean," people rushed to do the exact opposite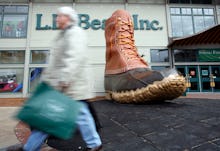 On Thursday morning, Donald Trump, with just over a week until he begins his role as President of the United States, tweeted out to his 19.6 million followers in support of buying stuff from the outdoors clothing company L.L.Bean, which specializes in duck boots and weather-resistant jackets.
"Thank you to Linda Bean of L.L.Bean for your great support and courage," Trump tweeted. "People will support you even more now. Buy L.L.Bean." 
It should be noted: The account Trump added at the end of his tweet, @LBPerfectMaine is in fact not Linda Bean's personal account, but the account of the restaurant bearing her name, which specializes in lobster. 
The tweet appears to be in response to Linda Bean, the granddaughter of L.L.Bean's founder, appearing on Fox News and decrying anti-Trump protesters. "I never back down," she said. "I do feel that they're bullies. That's all they are."
According to the Associated Press, Bean also contributed $60,000 to a political action committee supporting Trump during the campaign. 
Over on Twitter, Trump's call to "Buy L.L.Bean" already seems to be having a reverse effect. Almost immediately, people announced that they'd never buy from the company again. In fact, they plan to #BoycottLLBean."
For some, even if they had bought anything from L.L.Bean, they'd be throwing the stuff in the garbage. 
Though, just after #BoycottLLBean tweets started rolling in, so did #SupportLLBean. 
Even before Trump tweeted out this endorsement, L.L.Bean had been on the defense about Linda Bean's support of Trump. On Jan. 8, the company's executive chairman posted a Facebook status in response to being targeted by the online campaign #GrabYourWallet, which advocates for boycotts of companies that have supported Trump, and encourages people consider boycotting L.L.Bean. 
"We were disappointed to learn that Grab Your Wallet is advocating a boycott against L.L.Bean solely because Linda Bean, who is only one of 50+ family members involved with the business, personally supported Donald Trump for president," the statement said. 
After insisting that Linda Bean doesn't speak on behalf of the entire company, the post ended with: "L.L.Bean does not endorse political candidates, take positions on political matters, or make political contributions. Simply put, we stay out of politics."
Well, Trump had other plans for them apparently. 
The tweet itself is also alarming to people already concerned about Trump's ethics. He is, after all, calling for Americans to buy from a company as a "Thank You" to that company. 
Trump will become president of the U.S. on Jan. 20. 
Mic has reached out to L.L.Bean for comment.