Microsoft workers allege company didn't protect them from PTSD. Microsoft disagrees.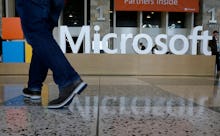 For years, former Microsoft employees Henry Soto and Greg Blauert had what is likely the worst job in tech. They were part of Microsoft's Online Safety Team, responsible for reporting horrific videos of violence, sexual assault and sexual abuse of children to authorities. 
In a lawsuit filed Dec. 30, the Soto and Blauert allege Microsoft didn't do enough to protect them from the psychological toll their work took on them.
Soto and Blauert were tasked with viewing videos and images flagged by Microsoft's automated software, the BBC reported Thursday, which included child pornography and other criminal acts. 
Soto's lawsuit alleges his job involved looking at "horrible brutality, murder, indescribable sexual assaults, videos of humans dying and, in general, videos and photographs designed to entertain the most twisted and sick-minded people in the world," the Daily Beast reported.
In the lawsuit, Soto claimed he experienced nightmares and anxiety as a result of his job. After viewing one video that reportedly showed the abuse and murder of a child, he also suffered from "auditory hallucinations," according to the Daily Beast.
Blauert also alleged he had to view "thousands of images of child pornography, adult pornography and bestiality that graphically depicted the violence and depravity of the perpetrators," the Daily Beast reported. He said he began experiencing trauma similar to Soto's, including nightmares.
When Blauert went to his managers for help, they allegedly told him to take walks and smoke breaks and to play video games. A counselor was reportedly brought in as part of a "wellness program," the Daily Beast reported — but according to the accusations, the counselor didn't sufficiently address the symptoms Soto and Blauert were experiencing.
Doctors eventually diagnosed both men with post-traumatic stress disorder and recommended they take medical leave, according to the Daily Beast.
The lawsuit asks for an unspecified amount in damages and for "suggestions on how to improve the Online Safety Team to be taken on board," the BBC reported.
In an email to Mic, a Microsoft spokesperson said the company "disagrees" with the plaintiffs' claims. 
"Microsoft takes seriously its responsibility to remove and report imagery of child sexual exploitation and abuse being shared on its services, as well as the health and resiliency of the employees who do this important work," the email said. The work done by the Online Safety Team "is difficult, but critically important to a safer and more trusted internet."
According to the spokesperson, "The health and safety of our employees who do this difficult work is a top priority. Microsoft works with the input of our employees, mental health professionals and the latest research on robust wellness and resilience programs to ensure those who handle this material have the resources and support they need, including an individual wellness plan."
The email claimed that Microsoft employees who do the work of identifying illegal images have mandated meetings with psychologists and can request time off or removal from the assignment at any point. The employees only see the images after they're filtered by tools that convert them to low-resolution black-and-white images and thumbnails, to help reduce the images' "realism."
Microsoft plans to oppose the allegations, according to the BBC.