'The Investigator: A British Crime Story' Release Time: When and where to watch on Netflix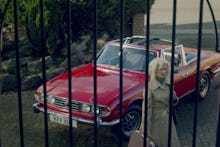 A more-than-30-year-old crime will be examined in the new ITV series The Investigator: A British Crime Story, which will be released on Netflix on Jan. 13. 
The four-part series, which ITV described as "combining stylized drama with compelling documentary," and has been compared to the popular American Netflix series Making a Murderer, follows former police detective Mark Williams-Thomas as he revisits the case of the murder of Carole Packman, who disappeared in 1985. 
Samantha Gillingham, Packman's daughter, and her father found Packman's wedding ring left on a table with a note that read, "I've had enough and I'm leaving. And I'm not coming back."
Packman's marriage with Russell Causley is reported by The Mirror to have been troubled, and his mistress had moved into their home. One day before Packman disappeared, she had an appointment with a lawyer to discuss divorce proceedings. 
Her body was never found. Causley was convicted of her murder in 1996, and in 2003, his conviction was overturned. One year later, a retrial found him guilty again and sentenced to life in prison, where "Causley reportedly told fellow inmates that he had killed his wife and dissolved her body in acid," according to the Independent.
Gillingham contacted Williams-Thomas, a noted detective who the Independent reported exposed Jimmy Savile as a sexual predator. According to ITV, in the first episode of the series Gillingham says, "I've got a lot of questions that remain unanswered. My father is serving life for her murder. And I need to know where my mother is. I need to know what exactly happened, if I can. What happened to my mother in June 1985. My father won't talk to me, he won't engage with me."
The Independent reports that, in the series, Gillingham described working with Williams-Thomas as her "best, last shot" at discovering the truth about what happened to her mother.