Muslim Registry Under Trump: Here's where the president-elect's cabinet picks stand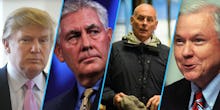 It's no secret that, during his election campaign, President-elect Donald Trump garnered a lot of support for his views and proposals regarding Islam and Muslim immigration. 
In June 2016, a majority of Americans said they supported his proposals on a Muslim ban in the United States, according to an NBC News/Survey Monkey poll. Trump's plan to curtail Muslim immigration and crack down on basic civil liberties of Muslim Americans has gradually transformed in the last several months. He has backed away from a total shutdown of Muslims entering the U.S. to a more comprehensive Muslim registry or database system as seen under President George W. Bush.
Initially implemented by the Department of Justice on Sept. 11, 2002, and then transferred over to the Department of Homeland Security, the National Security Entry-Exist Registration System tracked, monitored and sometimes detained immigrants from Muslim-majority countries. Obama recently dismantled the program, but Trump adviser Kris Kobach — one of the main architects of NSEERS under the Bush administration — encouraged the president-elect to consider making the reinstatement of the registry a top priority of his presidency. The Trump team has denied that the president-elect supports the system, but Kobach confirmed the incoming administration is preparing plans for a Muslim registry.
Now, throughout this week's confirmation hearings, members of the Senate are questioning whether Trump's cabinet nominees would support his proposal for a Muslim ban or a potential registry. Here's what Trump's cabinet nominees said about a Muslim registry during their confirmation hearings.
Rex Tillerson — Secretary of State 
Secretary of State nominee Rex Tillerson did not disavow Trump's proposal for a Muslim registry. The former ExxonMobil CEO said during his confirmation hearing Wednesday that, while he does not support a "blanket-type rejection" of any group of people, he did not reject the concept of a Muslim registry program like NSEERS.
"I would need to have a lot more information over how such an approach would be constructed," Tillerson said after Sen. Jeanne Shaheen (D-N.H.) asked if he would support a Muslim registry. 
John Kelly — Secretary of Homeland Security
During the Senate confirmation hearing for secretary of homeland security, former Marine Corps General John Kelly skirted around questions regarding Trump's Muslim registry proposal.
Sen. Gary Peters (D-Mich.) noted that the Muslim community in his state expressed fears over a Muslim registry and asked Kelly if he would approve of such a database and heightened surveillance on the religious community.
"I don't think it's ever appropriate to focus on something like religion as the only factor," Kelly said, adding that he doesn't agree with creating a registry solely based on faith. Kelly, however, did not speak on or rule out creating a registry based on national origin.
It should be noted, however, that NSEERS was an immigration-based registry system targeting people's national origin — despite only tracking those from Muslim-majority countries — rather than their religion. 
As secretary of homeland security, Kelly's agency would be responsible for enacting and monitoring some of Trump's immigration policy proposals, including a "Muslim registry," mass deportations and a huge border wall on the U.S.-Mexico border.
Jeff Sessions — Attorney General
Sen. Jeff Sessions, the attorney general nominee, said he would oppose a "Muslim registry" — with a few exceptions — during his confirmation hearing on Tuesday. 
When Sen. Patrick Leahy (D-Vt.) asked Sessions if he would support Trump's Muslim registry proposal, the attorney general nominee noted that the president-elect emphasized vetting immigrants based on country of origin and not solely on religion. Sessions said while he believes religion shouldn't be the only factor, it still should be considered when vetting immigrants. Later, he added that if an immigrant's religion made them want to cause harm to the U.S., then they should be barred from entry.
"I have no belief and do not support the idea that Muslims, as a religious group, should be denied admission to the United States," Sessions said.
Sessions' answer does not rule out a registry database like NSEERS, which also factors in the national origin of immigrants, including all Muslim-majority countries with the exception of North Korea. He added he would oppose increased surveillance on Muslim communities unless there's suspicion of "threatening illegal activity" in those areas.
"I would not favor a registry of Muslims in the United States. No I would not," Sessions said. "And I think we should avoid surveillance of religious institutions unless there's a basis to believe that dangerous or threatening illegal activity could be carried on there."
The Alabama senator, who would lead the Department of Justice if confirmed, would oversee government surveillance. In December 2015, he voted against a resolution that stated the U.S. should not bar any individual from entry on the basis of religion. Leahy proposed the resolution in response to Trump's call for a "total and complete shutdown" of Muslims entering the country.