Android Nougat Update: Galaxy S7 and S7 edge owners can finally receive new OS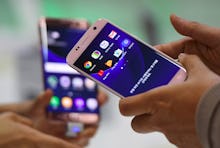 The Android Nougat 7.0 update has arrived for some Galaxy S7 and Galaxy S7 edge owners. Those with unlocked devices should check their phone for the new operating system, Android Authority reports. On Jan. 4, GSMArena reported that Samsung had a small-scale release of Android Nougat 7.0. This release served as a "soak test" to see if the operating system would run smoothly.
Who gets the update?
This OS update rollout is not limited to those enrolled in the beta program — Samsung launched a Galaxy Beta Program in November that allowed enrolled users to experience Nougat 7.0 before the official release; the program ended in December. That said, BGR anticipates that beta program members will receive the official update first and those with unlocked phones will get the update before those whose devices are affiliated with a carrier.
How to check for the update
Tom's Guide reports that Samsung will send a notification to handsets that are ready to download the new operating system. Alternatively, to check if your device is ready and eligible for the update, go to Settings > About Device > Download updates manually.
What features come with the update?
While the update brings the most recent security patch offered by Google, it does not come with the most recent update to Android Nougat 7.0. According to Android Authority, Samsung's roll out brings Android 7.0 but not Android 7.1.1, which was released in December. Android Nougat 7.0 brings key features such as new emojis, a smarter battery and quick switch features allowing a more streamlined way to move between apps. Additionally, Nougat 7.0 allows a handset to run two apps side-by-side. GSMArena reports that for S7 and S7 edge devices, Nougat 7.0 will bring a "new notification system, improved multi-window mode and improved UI and performance."