'Pokémon Stars' Nintendo Switch Release Date Rumors: Confirmed for livestream event?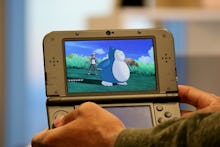 Pokémon Stars, the current working title for Nintendo's rumored Switch version of Pokémon Sun and Moon, is still just a rumor, but it could be confirmed at the company's presentation Thursday. The game, which might end up being called "Pokémon Star" instead — or any other title that fits into the current celestial naming scheme — has been leaking a lot lately, though it's still unclear exactly when Nintendo plans to make an official announcement.
Here's everything we know about Pokémon Stars heading into Nintendo's big Switch event.
Pokémon Stars Switch Release date: Already confirmed?
Various lists of Nintendo Switch games have been leaking a lot lately, though we're inclined to believe that most of them are mocked-up fakes. One of these leaks allegedly comes from GameStop, which may have confirmed that a Pokémon game is coming to the Switch. The details have apparently been scrubbed from GameStop's website, but they were preserved on Twitter by @Stealth_.
The text reads, "You will even be able to play Skyrim on the go, or Pokémon at home with the Nintendo Switch." So the Pokémon Stars name hasn't been confirmed, but we know that something is coming. After all, the Pokémon Co. already revealed plans for Switch release, and a port of Pokémon Sun and Moon seems more likely than a brand new game.
Pokémon Stars Switch Release date: Will we see it this week?
It's still unclear when Nintendo plans to reveal Pokémon Stars. We hope to see it at the upcoming Switch presentation, but we could end up waiting a while longer. According to a tweet from reliable gaming reporter Laura Dale, it might not get an official unveiling until E3 2017, a games industry conference set for June.
In that case, we'll be waiting a while for Pokémon Stars, but we'll still be on the lookout for any more news at Nintendo's big event.
More Nintendo Switch news, rumors and leaks
While you wait for the Nintendo Switch presentation to begin, take a look at some of Mic's recent coverage: A bunch of Switch accessories recently leaked and GameStop may have accidentally revealed the full list of games for the system. You can also check out the latest reports on Switch specs and the console's rumored price.