How Bruce Springsteen could cause problems for the B-Street band at Trump's Inauguration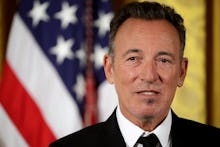 Few artists have described the tragedies of Donald Trump's character like Bruce Springsteen. The Boss has been an artful dragger of the PEOTUS, calling him a "flagrant, toxic narcissist" and describing our country's situation as being "under siege by a moron." Needless to say, he won't be performing at Donald Trump's inauguration or likely getting anywhere near the January festivities. But unfortunately, his music will.
The B-Street Band, the self-described "no. 1 Bruce Springsteen cover band," has signed on to perform at the Garden State Inaugural Ball on the eve of the inauguration. Loyal Trump constituent New Jersey governor Chris Christie will be on hand acting as the event's honorary chair, likely staggering and fist pumping through renditions of "Thunder Road" and "Born to Run." 
The irony is as thick as Trump's hands are small. Yet Springsteen is nearly helpless to stop his music from soundtracking our democracy's slow descent into farce. The legal red tape within our current music copyright system prevents Springsteen from micromanaging exactly who is allowed to play his music at what events. There is a way he can exact some sort of justice, though. It's just a long, hard road to travel.
The challenge Springsteen faces
Springsteen is a member of the American Society of Composers, Authors and Publishers, or ASCAP, a performing rights organization that manages and protects his copyrights. To play a Springsteen song at an event like the gala, the organizers need to merely apply for a "blanket license" with ASCAP, and can then play anything from his catalog they want. 
It's a legal and ethical conundrum we saw tested time and time again throughout the election, almost every time Trump played a song at one of his major arena events. Queen lashed out back in July after Trump walked out to "We Are the Champions" at the Republican National Convention, writing in a statement they were "frustrated by the repeated unauthorized use of the song."
"There's really not a damn thing that songwriters can do about it," George Howard, associate professor of management at Berklee College of Music and co-founder of Music Audience Exchange, said in a Skype interview. "You can imagine Freddy Mercury rolling in his grave with his music being used this way. But our systems aren't set up that Queen or Bruce Springsteen could say that we're happy to have our music played at sporting events, but we don't want them at political rallies. It's very much an all or nothing system."
Defamation, the Boss' glimmer of hope
Howard noted the United States is one of the only major Western nations without "moral rights," which allow the creator of a work to control how their work can be used from a personal and reputation standpoint, rather than a simply economic one. There's no clear reason why America has yet to adopt strong representation for artists in this way. Instead artists looking to keep their music out of compromising situations, like Springsteen at the inaugural gala, have to rely on tort. It offers Bruce only glimmer of hope to exert some semblance of control over the situation.
"He could sue for defamation," Howard said. "He could sue for false association, which would be harder because it's a cover band. In other words, [Springsteen] could say: 'By you playing my music at your event, it's confusing the public and making them think I'm endorsing you.' Those are hard, but occasionally they win."
Jackson Brown pulled it off in 2008, when he sued Senator McCain and the Ohio Republican Party for using "Running on Empty" in a Obama attack ad. David Byrne managed the same in 2010, forcing Gov. Charlie Crist of Florida to pay an undisclosed penalty and post a videotaped apology for using the Talking Heads' song "Road to Nowhere."
It would be a particularly rich twist in this corkscrew election to watch Donald Trump make a similar, sober apology to the Boss for misusing his music. However, knowing the Celebrity Apprentice star's cutthroat tenacity in the courtroom, it's unlikely he'll go down with a fight. Imagine for a minute though, what a cataclysmic clash of pop culture titans that would be.
Mic has reached out to the Boss's team for comment about how they're approaching this inauguration conundrum. We will update if we hear back.