'Arrested Development' season 5 is probably happening, but it needs a lot of work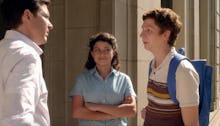 By all accounts, Arrested Development season five is happening. We don't know exactly when or what it's going to be like, but the cult comedy series is likely to return to Netflix a few years after its fairly disappointing fourth season aired on the streaming service.
In September 2016, Jessica Walters, the actress who plays Lucille Bluth, said a new season was "looking real good." No further comments were made on a potential fifth season until executive producer Brian Grazer spoke with TheWrap on Wednesday. 
"I think we're really close to pulling it off finally," he told the outlet. "All of the actors have agreed to do it." 
So, now that we're almost certain a fifth season is in the works, we can move on to more pressing questions: What can creator Mitch Horowitz and his team of writers do to make Arrested Development as good as it was in its first three seasons? 
Ignore season 4
Almost 14 years after Arrested Development first premiered on Fox — and was canceled after three seasons due to mediocre viewership — Netflix, the queen of reboots, decided to bring the series back for a fourth season.
With all episodes being released at once versus one per week, the show's structure naturally changed. Rather than having a more traditional narrative structure that built on itself, season four tried something new. There was one essential plot, one story, and all that changed was the perspective. In other words, each central character had their own episode — which made it easier for the cast members with other film and TV obligations. 
The decision backfired, and as the New York Times pointed out in their review, "... the paradoxical result is that season four is a painstaking exercise in the art of withholding. ... As each episode tracks one member of the hyper-dysfunctional Bluth family over roughly the same stretch of time, the story constantly circles back on itself, and information is rationed like methadone in the rehab center that first appears in episode three."
Moreover, season four was boring, merely a shadow of the original series that thrived on its multitude of independent stories: Maeby becoming a film-studio executive, Tobias joining the Blue Man Group and Buster losing his hand to a loose seal, to name a few. While there was potential in giving each Bluth their own episode, seeing repeated scenes through different perspectives didn't feel as fresh as the show perhaps wanted to. 
Michael Bluth's portrayer, Jason Bateman, blamed the season's messiness on Netflix, telling Marc Maron on his podcast WTF:
"The new ones were these episodes on Netflix that were meant to be the first act of a three-act story that Mitch had in his head. And the second two acts are still yet to be told. And he thought it would be fun to do the first act in some episodes. And that's what that was, yet Netflix called it season four of the original show, which was a little disingenuous because it implied that the show was coming back and we did it. And that's not what the show was, because each episode was about an individual character, so I think it was a little confusing and underwhelming, frankly, for the audience. That was unfortunate. It wasn't branded honestly. Or correctly, I should say."
If Bateman is right and Horowitz has more to say, season five will hopefully be richer and funnier, taking cues from the show's first three seasons and forgetting about the missteps of season four.