Nintendo Switch Pre-Orders USA: How to make a reservation as soon as possible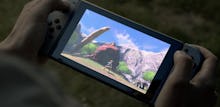 Nintendo Switch pre-order details have been kept as close to the chest as other sought-after specifics. The world will have to wait until Jan. 12 at 11 p.m. Eastern for official confirmations on Nintendo Switch specs, launch games and the price, but Nintendo has revealed one key detail ahead of the official livestream. 
Thanks to a recent tweet from the @NintendoNYC account, we now know the quickest way to preorder the Nintendo Switch in the USA — assuming you're in New York.
Nintendo Switch pre-orders USA: Here's the earliest you can make a reservation
According to the local Nintendo account, Nintendo Switch pre-orders will be available at the Nintendo World Store in New York City on Friday, Jan. 13 starting at 9 a.m. Eastern. Switch buyers, get your credit cards ready.
With pre-orders for the Nintendo Switch starting at 9 a.m., potential buyers may want to start lining up well in advance of that time. Supplies could run out pretty quickly depending on the number of units Nintendo has available for advanced purchase.
Nintendo Switch pre-orders USA: How long will supplies last?
Not long, probably! Nintendo isn't exactly known for having an abundance of supply of its latest tech. Even after years of not getting this right, Nintendo's holiday season stocking stuffer, the NES Classic Edition, continued the trend. Unfortunately, rumors suggest this will be true for the Nintendo Switch as well.
While Nintendo may surprise buyers with plenty of stock of the Nintendo Switch, it likely won't happen in New York. The official tweet from Nintendo NY confirms the "limited quantity" of units available for pre-order purchase. If you're dead-set on making a reservation you may even want to start queueing up now.
More Nintendo Switch news and coverage
Check out more Nintendo Switch coverage, including where to watch the big event, Mic's reports on whether the console will be backward-compatible, if more characters are coming to Smash Bros., what current games we want high-definition remakes of and information about the upcoming Nintendo Switch event.