What happened in the 'Colony' season 1 finale? Recap before season 2's premiere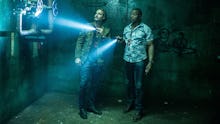 Colony returns to USA for its second season on Thursday at 10 p.m. Eastern, and we're hoping it ties up some loose ends from the season one finale. 
In "Gateway," the bloc found itself on lockdown, and Homeland Security invaded after a Host was found but not destroyed. While the bloc is being blown apart at every corner, everyone was left trying to figure out what comes next. 
Here's what happened on Colony:
We did find out a lot in the finale — like how Katie was conspiring for the Resistance the whole time. But bigger than that, the "aliens" of Colony were finally revealed. 
When one of the Hosts is captured at the beginning of the episode, Will is instantly worried: Discovering that Snyder is no longer in charge and that Helena is now overseeing everything, neither is sure how to proceed — and Will panics. After discovering all of this information, Will runs home to tell Maddie to take the kids somewhere safe, so they head to the Green Zone for safety — but the journey turns out to be much trickier than they'd anticipated.
Will's attempt to save his loved ones go awry when Katie removes a Host's shield, which sends out an emergency signal resulting in an invasion by drones and the beginning of an all-out war. Snyder attempted to escape by trying to get a job at Transitional Authority, but was detained by Lagarza.
Will flees to Santa Monica through the gateway, and Katie comes home to a dark, empty house. She doesn't know where Will or their children are, and by the end of the finale, everything has changed for the colony.