Russia's proposal to decriminalize domestic violence earns a sweeping parliamentary victory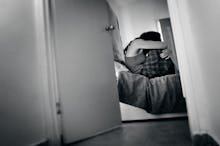 A bill to decriminlize domestic voience in Russia passed its first reading at the Duma, the lower house of parliament, with a near-unanimous vote. The reading will advance the amendment, making it one step closer to becoming law.
Of the 370 votes, 368 were in favor in favor of the bill. The amendment was proposed and spearheaded by the notoriously ultra-conservative MP Yelena Mizulina, who heads the Duma Committee on Family, Women and Children's Affairs. Mizulina was also the mastermind behind Russia's 2013 law banning gay "propoganda."
If the new bill becomes law, domestic violence within families would be reduced from a criminal offense to an administrative one; an abuser could resolved the issue by paying a fine, doing community service or a short prison term, according to Politico. Someone could only be criminally charged if they were found guilty of abusing a family member more than once a year. 
In July, Russian President Vladimir Putin signed a law definining violence within a family as a criminal offense. Since then, Mizulina and her supporters have been working hard to overturn it. 
"If you spank your rowdy child, you're facing up to two years [in jail]," Mizulina wrote in a tweet Wednesday, translated from Russian. "But then if your neighbor beats your child it simply ends in administrative punishment."
"How many more families will police departments 'work out' while the Duma holds a discussion regarding the 116th [proposed amendment]?" Mizulina continued in a follow-up tweet. "The Russian Federation has 20 million families with kids. They're all in danger!"
Mizulina argued in her opening statements to the Duma on Wednestday that the current criminal code is at odds with Russian values. 
"Punishments [for offenses] can not contradict the system of social values that society holds on to," she said, according to the Moscow Times. "In Russian traditional family culture, parent-child relationships are built on the authority of the parents' power ... The laws should support that family tradition."
The initiative has outraged women's rights activists. 
An estimated 40% of violent crimes in Russia occur within families, its government reports, and 36,000 women are assaulted by their husband or boyfriend everyday. Forty of those women die each day, according to the BBC.
Olga Yurkova, executive director of Syostri, or "Sisters" — a recovery center for sexual assault victims — explained to Russian news outlet Novaya Gazeta why the amendment would be so harmful, the BBC reported. 
"A huge number of women tolerate domestic violence but do not bring it out to the public," Yurkova said. "The decriminalisation will worsen the situation."