Netflix horror movies you'll have to watch with the lights on this Friday the 13th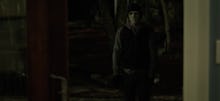 Friday the 13th, a day of superstition and bad luck, is upon us. If the only way to avoid encountering bad luck is to hide in bed under the covers, there's one way to pass the time while doing so — and that's binge-watching movies about fictional characters' misfortunes. 
There's no shortage of frightening films to choose from on Netflix, and making a decision from its seemingly endless supply of entertainment may seem impossible. To ensure at least one good thing happens on Friday the 13th, we've chosen some of the best films with which to entertain yourself safely from your own home ... as long as your computer doesn't break and your Netflix account doesn't crash. 
That would be truly horrific. 
The Babadook
The horror in this film is in the mind — and the heart — as a grieving widow and her son find themselves terrorized by a mysterious creature they discover in a children's book. After reading the story, they fear the titular character has invited itself in their home, calling into question the pair's safety and sanity. Written and directed by Jennifer Kent and starring Essie Davis, Miss Fisher's Murder Mysteries leading lady, audiences may find themselves repeating the ominous phrase, "You can't get rid of the babadook."
The Honeymoon 
A newlywed couple's peaceful getaway goes badly when one of them begins acting strangely. This film calls upon the age-old idea of unknown elements like nature, pregnancy and femininity as threats, as well as the question of how well we know the people with whom we choose to share our lives. But unlike many of its predecessors, in Honeymoon — which is directed by a woman — it's not the husband who has something to hide. 
A Girl Walks Home Alone at Night 
While the name of this film certainly will strike a chord with anyone who's experienced street harassment, it delves into the supernatural by exploring the beginning of a relationship between a young female vampire and a young man. Love, lust and drug addiction are all part of this movie, produced in Farsi with English subtitles.
Hush
A killer terrorizing a deaf woman who is home alone drives the plot of this film, which currently holds a 100% rating on Rotten Tomatoes. Based on the trailer alone, it's recommended to not have your laptop on while watching it. 
Hard Candy
This 2005 film stars a youthful Ellen Page as a teenager confronting a sexual predator played by Patrick Wilson. Packed with moral ambiguity and physical discomfort, this movie is not for the faint of heart. 
The Silenced 
Boarding schools have never failed to provide spooky settings for horror movies, and The Silenced is no exception, as young Ju-ran notices her classmates disappearing from their dorm one by one. The frightening elements in this movie — produced in Korean with English subtitles — are more realistic than supernatural, not that that provides any comfort for viewers. 
I Am the Pretty Thing that Lives in the House
"Three days ago, I turned 28 years old. I will never be 29." As if the title of this movie wasn't eerie enough, that statement from the film's main character doesn't help matters. The Affair star Ruth Wilson plays an aide to a woman suffering from dementia who begins to experience ghostly encounters. Is it all in her head, or do the answers lie in the pages of a book? 
The Invitation 
It's never a good idea to go to a dinner party hosted by your ex-wife, especially when your ex might be involved in a cult ritual. 
The Awakening 
In The Awakening, Rebecca Hall plays an author who works to disprove supernatural experiences and is called to a boarding school whose owners suspect a haunting by a recently deceased student. But as her own past comes into play, solving the mystery won't be as easy as it looks.