'Shovel Knight: Treasure Trove' Nintendo Switch release date and Body Swap mode confirmed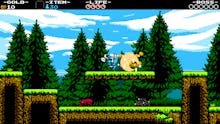 As we steel ourselves for Thursday night's Nintendo Switch livestream event, more news and information about the highly anticipated console keep trickling out. But the most exciting recent reveal may be that one of the best platformers in years — including boatloads of extra content — is coming to Switch. That's right, Shovel Knight is coming to Nintendo's new console.
If you haven't played Shovel Knight yet, you'll have a chance to enjoy it on Nintendo Switch.
Shovel Knight for Nintendo Switch: Why we're so excited
Originally released in 2014, Yacht Club Games' Shovel Knight is a retro-style side scrolling platformer that harkens back to classics like Mega Man. As the eponymous Shovel Knight — appropriately, a knight who wields a shovel — you'll run, jump, bounce and bash your way through a series of fantastically varied and challenging levels. 
Each level culminates in a boss fight against a different themed knight, such as Plague Knight and King Knight. You can upgrade Shovel Knight with new abilities that make it easier to both traverse and survive in the game's harsh environments. With a rewarding level of difficulty and one of the best chiptune soundtracks out there, Shovel Knight was a real gem back in 2014. You can revisit it or experience it for the first time in Shovel Knight: Treasure Trove on Switch.
Shovel Knight for Nintendo Switch: Same game, new title
You might be wondering why it has a new name. Since its original release, the developers have actually added tons of new content to the game. The first expansion, "Plague of Shadows," gave players control of Plague Knight in new levels, while the upcoming second expansion, "Specter of Torment," does the same for Specter Knight. The Switch version will come with all of this new content, which is also available for free in other versions of the game. 
In addition, the base game is getting some pretty rad updates. Body Swap mode lets you play as a gender-bent version of the main character, and an all new two-player co-op will allow you to play through the full game with a friend. Finally, a new campaign based on King Knight is planned for later in 2017. That's a metric ton of free new content for a game that was already great on its own. 
Shovel Knight for Nintendo Switch: Release date unknown
Yacht Club Games didn't offer up a specific release date, which makes sense since we still don't know exactly when the Nintendo Switch is set to launch. The console is confirmed to arrive in March. So hopefully, Shovel Knight: Treasure Trove will arrive at around the same time.
Nintendo Switch news, rumors and updates
Check out more Nintendo Switch coverage, including Mic's reports on whether the console will be backwards compatible, what current games we want high-definition remakes of and information about the upcoming event.