'Kingdom Hearts' Clock: Japan gets stained-glass art installation for 'Kingdom Hearts 2.8'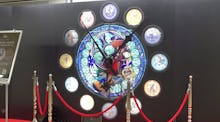 As a way to celebrate the 15th anniversary of the Kingdom Hearts franchise and the release date of Kingdom Hearts HD 2.8 Final Chapter Prologue, Square Enix has an awesome art installation in a metro station in the Shinjuku area of Tokyo, according to Crunchyroll.
The installation consists of a massive stained-glass clock and walls full of Kingdom Hearts-themed art — and it's pretty amazing. Check out some footage of the installation below.
Kingdom Hearts clock video
The clock itself appears to be fully functional. The main face of the clock is surrounded by little vignettes, each of which depicts a different Kingdom Hearts character.
You can see up-close images of each vignette on the memorial's official website. The site's in Japanese, but you're a smart cookie — you can probably figure it out.
You might also have noticed a digital countdown clock to the right of the stained-glass installation. According to Crunchyroll, it's counting down to the launch of Kingdom Hearts HD 2.8 Final Chapter Prologue, a compilation of several Kingdom Hearts games for PS4.
Kingdom Hearts 2.8 and Kingdom Hearts 3 release dates
Kingdom Hearts HD 2.8 Final Chapter Prologue — can you say that three times fast? — is available Jan. 24, but Kingdom Hearts 3 is still a long way off. Square Enix has yet to announce a release date, so we'll just have to continue being patient.
More video game news and updates
For more video game news, check out the latest from Mic. Here are the details on the latest patch to hit the Overwatch PTR, the latest trailer for Horizon Zero Dawn, details on the latest Pokémon Go nest migration and all the info on the impending Nintendo Switch presentation.