'A Series of Unfortunate Events': What critics are saying about the Netflix series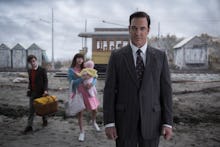 With Lemony Snicket's A Series of Unfortunate Events premiering Friday, several critics have already had the opportunity to review the Netflix original series, adapted from the eerie children's books that follow the adventures of the Baudelaire orphans. And, fortunately for Netflix, it looks like it has a critical hit on its hands. 
Previously adapted into a film, the TV version features Neil Patrick Harris as Count Olaf, the over-the-top villain who becomes the Baudelaires' guardian after their parents die in a fire. Olaf, as we quickly learn, is after the Baudelaire family fortune, and the series looks at his convoluted attempts to keep ahold of Violet, Klaus and Sunny Baudelaire.
The reviews are in
Here are some of the rave reviews Lemony Snicket's A Series of Unfortunate Events has gotten so far:
Ben Travers, Indiewire
Just as the blunt-in-message and beautiful-to-behold production design works in the series' favor by leaning into its allusions, "A Series of Unfortunate Events" proves as inspirational and endearing as it claims to be forlorn and heartbreaking.
Robert Lloyd, Los Angeles Times 
Although basically comic, and not without moments of beauty and relief, the series is a dream in which you escape one trap only to fall into another, elude your pursuer only to find him somehow before you and where hope springs eternal only so it can be eternally snatched away. But you should watch it, anyway, and take your time.
Sonia Saraiya, Variety
Tonally, "A Series of Unfortunate Events" is a weird, wonderful masterpiece — a self-consciously droll gothic dramedy that might be what would happen if Wes Anderson and Tim Burton decided to make a television series about children together.
Lenika Cruz, The Atlantic
One of the great delights of Netflix's "A Series of Unfortunate Events" is the world-building, aided by stunning production design that translates the books to screen while adding new flourishes.
And in case you don't like the show and want to see some opinions in line with yours, here are a couple still-positive-but-not-so-positive reviews:
Erik Adams, A.V. Club
It treats mature themes like grief, loss and disappointment with sardonic honesty, but that's a world-weariness beyond the show's reading level. As such, there's a baseline broadness to this adaptation — best exemplified through the bumbling of Olaf's accomplices — and a tendency toward the repetitive. 
Verne Gay, Newsday
A little too Lemony, but genial, well-produced and presumably faithful to the Lemony Snicket vision.