Utah high school gave female students a laundry list of sexist advice for a mandatory date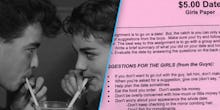 A high school in Utah seems intent on reigniting the dying embers of chivalry.
Jen Oxborrow, the parent of an 11th grade honor student at Highland High School, said her daughter Lucy Mulligan received the mandatory homework assignment to "go on a date!" with a boy. On Monday, Oxborrow posted a screenshot of the handout the teacher distributed to female students, which lists some truly antiquated advice.
Some pointers on the pink worksheet include "don't waste his money," "be feminine and ladylike, don't use vulgar language or swear" and "have a sense of humor." 
In an evergreen double standard, girls are also advised not to "worry about [their] appearance on the whole date" just before they're reminded to "dress appropriately." 
The boys' equivalent wasn't much better, suggesting they bring their date flowers, open doors for her and "have her home on time." 
Admittedly, though, the worksheet's advice like "don't exaggerate to your friends about what happened on the date" and "it's okay to show your feelings" hold up better in this millenium than "give him a chance to be gentlemanly." 
According to the Salt Lake Tribune, the assignment was part of the school's state-mandated "Adult Roles and Financial Literacy" class. Highland Principal Chris Jenson said the unnamed teacher of the course was mortified because she had intended it to be a "light-hearted lesson in social norms."
The handouts allegedly came from Utah's curriculum database, where teachers across the state can upload their class materials for other educators to use — they've since been removed from the site.
"There's no doubt that there is gender bias in the assignment," Jenson told the Tribune. "There are some things that are relatively arcane in that assignment and that need to be updated or gotten rid of."
Mulligan told the newspaper she wasn't sure what she and her fellow students were supposed to glean from the assignment.
"Teachers should be a reliable source of information, and this doesn't seem like an educated assignment, or an assignment that would teach you anything at all."