Amazon 100,000-job hiring spree might not be as awesome as it looks at first glance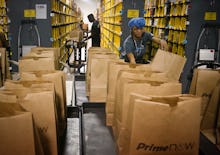 Whatever harsh words have been exchanged between Amazon founder Jeff Bezos and President-elect Donald Trump — it seems to be water under the bridge.
The company announced that it would be adding more than 100,000 full time jobs over the next 18 months on Thursday, ranging from entry-level jobs and fulfillment center roles to usually well-paid engineers. 
Analysts were quick to spot the benefits for Trump.
"The timing certainly makes Trump look good," Ivan Feinseth, an analyst at Tigress Financial Partners LLC told Bloomberg. "Bezos couldn't have set him up any better."
Representatives from Amazon didn't immediately respond to questions about whether the president-elect had anything to do with the announcement or whether the jobs were already in the works. 
Either way, it's a lot of jobs to announce all at once. According to the press release Amazon has created only about 150,000 over the last five years.
Still, as with previous jobs-related announcements — the devil's in the details. 
Research actually suggests that the disruptive online retailer destroys American jobs by supplanting retail competitors; the president-elect notably didn't take to Twitter when Macy's announced it was laying off nearly 4,000 people in a wave of store closures.
Besides, Amazon has had a great year: It makes sense that the company would do lots of hiring.
Amazon reported its "best ever" holiday season at the end of 2016. After years of unprofitability, Amazon posted six straight quarters of profits.
At least four of the new fulfillment centers were already under construction, according to the release.
Sign up for The Payoff — your weekly crash course on how to live your best financial life.