Ed Sheeran 'Divide' album release date, track list announced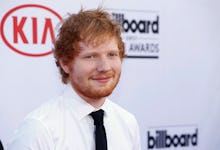 It's official. Ed Sheeran is done teasing us about his album's undisclosed details. On Thursday, Sheeran confirmed his third studio album will be titled Divide and the release date will be March 3. Sheeran's opus will be available for preorder at midnight "in your country," he tweeted Thursday.  
He also offered a peek at the official cover art. Sheeran is sticking with the theme of mathematical symbols in using the division symbol over a blue background to mark the new record. His last album was called x, or Multiply. His debut +, or Plus. 
Divide, Sheeran's first album since 2014, has already garnered buzz based on the success of the first two singles, which broke a Spotify record for the most streams in a 24-hour period, Billboard reported. The mellow and dancey "Shape of You" was played 6,868,642 times and the nostalgic guitar-led "Castle on the Hill" was played 6,168,395 times. 
Sheeran broke his silence about new music in the new year after a self-imposed social media fast and has been rolling out details little by little via social media. He disclosed the full track list via handwritten notes Wednesday. 
Here is a look at the full track list for Divide: 
1. Eraser