2017 People's Choice Livestream: How to watch the awards show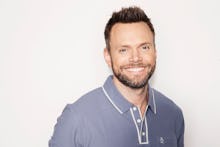 Awards season is here, which means you have plenty of reasons to stay home and fawn over your favorite actresses and actors. Up next is the People's Choice Awards, which airs live on Wednesday, Jan. 18 on CBS at 9 p.m. Eastern. If you're looking to livestream the show, we've got you covered. 
While the show airs live on TV, CBS will have a livestream for those at home with a cable login. This year's People's Choice Awards will be hosted by Joel McHale. 
The 43rd People's Choice Awards is an award show where the fans vote on the best in TV, movies and celebrity. Blake Shelton and Fifth Harmony will perform and Kristen Bell, Ellen DeGeneres, Robert Downey Jr., Jennifer Lopez, Tyler Perry, John Stamos and more will attend. 
The 2017 People's Choice Awards air live on Wednesday, Jan. 18 at 9 p.m. Eastern on CBS.